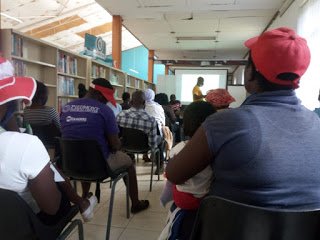 Tinaani Nyabereka
GWERU
– The Vendors Initiative for Social
Economic Transformation (Viset) last week engaged the Midlands informal traders
as part of efforts to equip the sector on constitutionalism.
Viset
Monitoring and Evaluation (M&E) officer Edward Kapodogo told participants
that it was important for them to know their rights as well as strategies that
are effective in holding office bearers to account.
"We
are engaging you because we have many initiatives targeted at empowering
vendors and capacitating our informal sector. We are also here to unpack the constitution
because we realised that many informal traders don't really know much about
their constitution and their constitutional rights.
He
said it was imperative for vendors to hold government and office bearers to
account through various ways when they feel their rights are getting violated.
"We
are spearheading the Informal Traders Accountability Agenda (ITAA) to help
vendors so that they operate to help amplify the voice of informal traders as
they face a number of challenges which remain unattended to," said
Kapodogo.
He
said the informal sector was a key enabler of the economy and it was therefore prudent
for vendors to be organised and speak with one voice.
"As
vendors you must know you have a set of rights which are enshrined in the
constitution to protect you. It is imperative that you know what's happening in
your localities and country.
"If
we are not united, we are not able to advocate for the issues we want to be
addressed. We know that Covid-19 came and government set aside a cushioning fund
for people and businesses but we did not access the money because we are not
united and did not speak with one voice.
Viset
Information and Publicity officer Jabulani Chikomwe said the informal sector must
learn new skills and acquire new knowledge for the sake of growth.
Viset
Gweru coordinator and vendors representative, Rumbidzai Dube also called for
unity and urged participants to go and capacitate others with the knowledge
gained.