Three pressure group members, Honest Makasi, Misheck Gavi and Simbabrashe Hove were yesterday arrested for organizing a demonstration over the continued blackouts by the Zimbabwe Electricity Supply Authority (ZESA).
The three were facing charges of breaching the Criminal Codification Act Chapter 9:23 as they are alleged to be promoting public violence, breaches of peace or bigotry.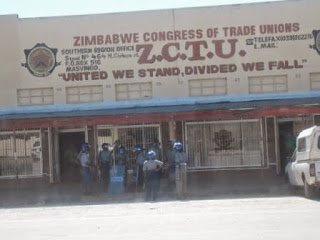 Police details who dispersed the demonstrators yesterday
The Zimbabwe Republic Police (ZRP) disrupted the gathering at the Zimbabwe Congress of Trade Unions (ZCTU) from which people were to march to ZESA offices.
The demonstration was organized by residents at Mucheke hall on the 21st of November 2014 after ZESA failed to pop up at the community meeting organized by Election Resource Centre (ERC)in collaboration with Masvingo Residents Trust (MRT).