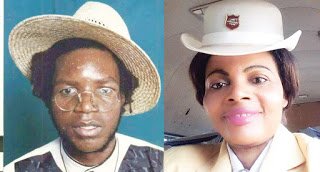 System Tazvida and wife Babra


Stephen Ephraem
On 04 February 20 years ago, a dark cloud fell on the Zimbabwe's musical fraternity as one of its refined musicians; System (Fanuel Nyasha Mazhetese) Tazvida breathed his last after a long time of illness.
Born on 2 May 1968 in Zaka, Masvingo, System Tazvida earned himself nicknames like 'Rombe and Wezhira' after releasing singles and albums that made him a household name in the sungura genre. System was credited for inventing his own beat which he christened Smoko music.
Although he started music in the mid-1980s when he released songs like 'Mabhawuwa' while still with Khiama Boys in 1985, He later left the band with Cephas Karushanga to form a short-lived ensemble called Mabhauwa Express. After his stint with Mabhawuwa Express, Wezhira joined Ephraim (Zhuwawo) Joe's Sungura Boys where he recorded hits like 'Iwawo wangu' and 'Dhiya Ungwarire.'
In 1993, Tazvida formed his own group Chazezesa Challengers and produced his first solo single 'Vaforomani' that was followed by various other singles as well as six studio albums namely, Rudo, tsika nemagariro, Mutunhu unemago, Wadenha mago, Watosvorwa, Huni nyoro mumoto and Rimi remoto.
Commemorating Tazvida 20 years after his death, fire brand South Africa-based musician, Peter Mathonsi who is the chairman of Smoko Task Force said Tazvida will remain a brand forever.
"Tazvida will always be remembered as a labour commentator taking into consideration songs like Vaforomani and Mushandi ndimambo. He sang about practical issues," said Mathonsi.
In a telephone interview with TellZim News, Tazvida's widow Barbra Mabuyaye Tazvida spoke passionately about her late husband.
"System united people with his socially-themed songs. After listening to his songs, people would sooth their bitterness," Barbra said.
She revealed that System never criticised his copycats.
"There was a band that imitated his beat and System said that they should continue imitating him. To him, the copycats where actually promoting Smoko music not competing against him. To this day, I abide to that principle, I don't hate his imitators," the lady continued.
"I urge all Smoko fans to buy System Tazvida's songs online and avoid pirated music. That way they will be supporting my family. Fans can find me on my Facebook account Nyababs M Tazv," she concluded.