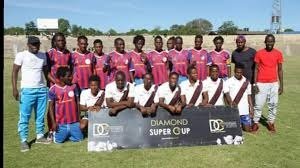 File Picture
Blessed Chauke
While
football fans are excited about the resumption of the world's most beautiful
game, Masvingo United football club (FC) seems to have lost all hope of
securing a sponsorship deal for the 2021 campaign.
Although
the Division One leagues are not going to get the first nod to start, it is
clear that they will be the next in line after Premier Soccer League (PSL)
resumes.
However,
Una Una as Masvingo United is popularly known have settled for 'begging' style
to fund the club as sponsors and local corporates are not forthcoming.
Club
chairperson, Hubert Fidze who was optimistic of a bright future when he assumed
office has accepted defeat on the part of securing a sponsorship deal.
"The
sponsor of the team will be the community and the community will help by
raising the funds so that the team will be able to play their games without any
problems. Besides the disbursement from Zifa our players didn't receive
anything during the lockdown period,'' said Fidze.
With
these conditions in place, it might be a mammoth task for head coach Ezekiel
Mutoda to keep and assemble quality players who can compete for the top spot.
Players
who had signed for Una Una before Covid-19 struck were paid an average of $1 700
for a contract of two years.
However,
since games weren't played, a few weeks ago Zifa wrote to clubs to find common
ground with players who might want to quit or those who would have got offers
elsewhere.
This
might prove to be a ticking time for a confrontation between Una Una players
and the management since the money which they received as signing on fees is
now equivalent to US$20 on the interbank exchange rate.
Fidze
however believes the contracts are still valid and once they get the nod to
train players will flock in although he is not sure of the availability of all
the '22' players whom they signed.
"The
contracts are still valid and I am optimistic the players are ready to get into
the game if Zifa gives us permission to play. We are not sure if some of the
players are still around because of the lockdown.
"We
signed 22 players before and during the lockdown but we are not sure if they
are all round. We will liaise with the technical team,'' said Fidze.
The
Busmen as Una Una is also known last tasted PSL in 2011 where they played a
howler of a season and were relegated to less decorative D1.
Many
efforts have been made to bring back PSL action to Mucheke Stadium but somehow
the efforts have been blown away.
In
2015, the team missed a glorious chance to have another dance in topflight
football when they had a steady sponsorship but failed to win in Mutoko on the
last day of the season.
However,
with 2021 bringing hosts of financial challenges and obviously no fans in the
stadia, the community will have a mountain to climb when it comes to financing
the club.
While
the US$1.8 million bailout package from Fifa and Caf seem depleted in every
club and Zifa's coffers, it's back to square one for clubs to hunt for funding.