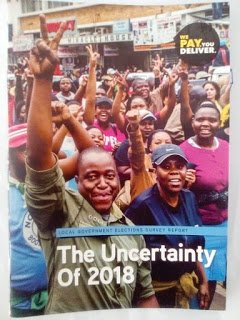 Clever Taperamoyo
MASVINGO – The We Pay You Deliver (WPYD) Consortium on Tuesday, June 19, launched a local government election survey report titled 'The Uncertainty of 2018' whose findings point to low interest in local government elections.
Different political players, council officials and other stakeholders attended the launch at Urban Lifestyle Guest House in Rhodene.
The report is a result of a survey conducted in Bulawayo, Harare, Chitungwiza, Gweru, Mutare and Masvingo between August and October 2017.
The report highlights that the electorate and political parties do not attach as much priority on local government elections as they do on the parliamentary and presidential vote.
Some 53.1 percent of respondents felt the harmonisation of elections affected the importance of council elections.
It also shows that in the upcoming elections, the local government vote will be split between the Movement Democratic Change (MDC) and Zanu PF at 23.3 and 15.1 percent respectively. Some 50 percent of participants were afraid to answer questions.
In his presentation, Davison Muchadenyika, one of the researchers, touched on such areas as councillor performance ratings and voter preferences, prioritisation of local government elections and the role of civil society, mayor`s functions as well as the future and credibility of the electoral process.
"Political parties are urged to prioritise council elections by fielding candidates with a traceable record of public service commitment or excellence in other sectors," Muchadenyika said.
Speaking at the same event, Dr Takavafirei Zhou said the findings were critical in interpreting voters' attitude towards the country's electoral processes.
"The major problem is the politicisation of local council. We do not have political sanity in Zimbabwe though we appreciate the effort taken in coming up with this report. Our real challenge is on leadership; we need to have a paradigm shift from politics to potential, where the electorate chooses councillors with potential not along partisan lines," Dr Zhou said.
City of Masvingo mayor, Hubert Fidze said councillors appreciated the effort behind the research and its importance in providing scientific information to policy makers.
He also urged all councillors and aspiring councillors to familiarise themselves with the report.
The WPYD consortium partners include Masvingo United Residents and Ratepayers Alliance (MURRA), Combined Harare Residents Association (CHRA), Habakkuk Trust and Bulawayo Progressive Residents Association (BPRA).