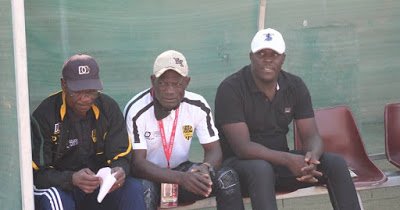 Sports, Manica Diamonds new head coach Johannes Nhumwa (Centre)
…Nhumwa
confident of a bright season ahead
Blessed Chauke
MUTARE –
As the traction towards the return of football in the country continues to gain
momentum, all is perfect and organised for Manica Diamonds FC who are eager for
their second dance in the much-coveted Castle Lager Premier Soccer League (PSL).
Gem
Boys paraded their diamonds in their debut PSL season and have resumed group-training
under the tutelage of Johannes Nhumwa aka Dutch Mentor.
Team
manager Masimba Chihowa told TellZim News that their books were clean and that
their players were getting what they signed for without any delay.
"We paid all our players and we do not have
any bad relations with them since all of them are paid very well without any
problems. Players are happy because we do not owe any of them but they are all
paid their full salaries.
Chihowa
confirmed that they started training last Tuesday but added they had not yet
had any new signings.
"All players are back on training and we started
training on Tuesday last week. We
trained the whole week and this week we are also busy training.
"No
new players available and we did not release any players all are available.
They are eagerly ready to play and only waiting for football to kick start,"
said Chihowa.
Chihowa
also said they expected to play very well like what they did last time in 2019
as they completed their first taste of topflight football on position five.
"We
expect to play very well like what we did in 2019 season before action was
stopped. We were playing some quality football and the team finished fifth
after the boys put up a solid performance. I also hope the team will continue
with their good performances and take it from where we left it," said Chihowa.
All
Manica Diamonds players have been reportedly tested for Covid-19 and all
results came in negative.
In
an interview, Nhumwa said they have no changes from the team and said he was
targeting a better performance and finish in the top four.
"So
far there are no changes from the team and the setup is still the same. We have
not yet signed any new player but we will definitely look into that if there is
need.
"All
the players are available and they are all training very well and I am
confident that we will finish the upcoming season in the top four," said
Nhumwa.
Nhumwa
took over from seasoned gaffer, Luke Masomere who parted ways with the Mutare
giants after a spate of poor results.
However,
critics accused Nhumwa of hijacking and toppling Masomere since he was his
lieutenant when he at the helm of the club.
Nhumwa
went on to produce some good results when he was on the driver's seat, earning
him probably the most challenging job in his career.
Nhumwa's
job at Manica Diamonds is reportedly being eyed by many top gaffers who are being
charmed by the solid funding.
During
the height of Covid-19 lockdown, the club lost talented midfielder Last Jesi to
Sudanese side Al Hilal and have also secured the services of former Masvingo
Pirates and Masvingo United speedy forward Michael Tapera at the end of the
2019 season.