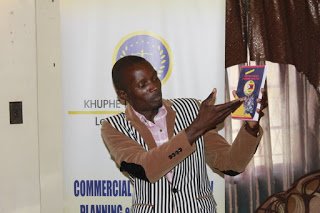 RUSAPE –
Lawrence Khupe, a Rusape youth who graduated from the Midlands State University (MSU) in Gweru last year, has launched a book titled What Went Wrong? Zimbabwe Since 2000.
The book, which explores the country's most tumultuous period which began with Hondo Yeminda in 2000, was launched on June 16 at Khupe Law Chambers in Rusape.
It revisits the formation of the Movement for Democratic Change in 1999, the 2005 Land Redistribution Act, the political horrors of 2008, Robert Mugabe's increasing authoritarianism, the Look East policy and the 'New Dispensation'.
In an interview, Khupe revealed it took him two years to complete the book, saying he was motivated by a strong passion for the documentation of the social, economic and political crisis that have plagued the country for so long.
"I am a historian and a holder of a Bachelor of Arts Degree in History and International Studies. This is really my passion and I would like to do my part in highlighting our past for the sake of future generations," said Khupe.
The guest of honour at the launch was Treasure Basopo, the Zimbabwe National Students Union (Zinasu) chairperson at the University of Zimbabwe (UZ) who last year led thousands of students in a demonstration against the awarding of a controversial PhD to Grace Mugabe.
"Few Zimbabwean experiences are documented by Zimbabweans and others are not documented at all. I take this opportunity to acknowledge Khupe's hard work in publishing a book as we stand closer to a new dawn than ever before. We have so much to deliver and much is expected from us the younger generation in the future of Zimbabwe," Basopo said.
The book was published by Pfumojena Printing and Stationary company.entertainment