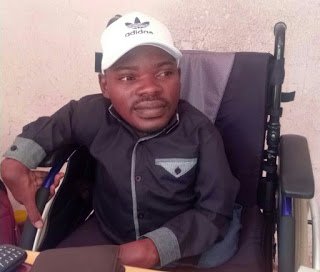 …disabled aspiring Cllr speaks on why he didn't join any party

Brighton Chiseva
Aspiring councillor for Masvingo Urban Ward 5, Vengai Kurunzirwa said he decided to contest as an independent because seeking a ticket from any political party entails humiliation and involvement in dirty politics.
Kurunzirwa, who is wheel-chair bound, said many political parties lack empathy for people with disabilities, meaning that he would still have been subjected to the same chaotic processes that marred primary elections.
"Some of us cannot hustle and tussle. If you look at the manner in which the biggest political parties conducted their primary elections, you would see that they are not a good home for people with disabilities. In some instances, there was a lot of pushing and shoving as well as savage fist fights that I would not be able to do," said Kurunzirwa.
He also said many people in political parties see a disabled person seeking a political party ticket as a charity case.
"They look down upon you and think you are just there to beg, and not to offer anything tangible. They do not believe we are capable people who can deliver if given a chance," said Kurunzirwa, who is an accountant by training.
"If a partisan candidate wins, he or she would first seek to serve those from his/her own political party but if – as an independent – I win, I would quickly move to serve the community that elevated me. I would not beholden to anybody and it's only the people who can recall me if they feel I am not doing the job well," he said.politics