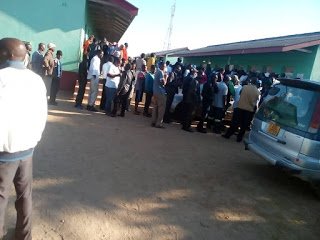 A meandering queue at Runyararo primary School

…mixed up names not in alphabetical order
TellZim Reporter
Many voters at polling stations in Masvingo Urban are being send from pillar to post as their names cannot be easily found in the voters' roll.
The problem is more noticeable at Shakashe Primary School, but also at Rujeko Primary School, where the polling stations are divided into four and three respectively.
At Runyararo Primary polling station, Ward 4 – which is divided into six – many people were recorded as turned away because they had got into the wrong queue.
At these polling stations, many people complained they had been told to join a new queue because their names could not be found in a particular sub-polling station's roll.
"This is my second queue and I have been here since 06:30. I think they want to frustrate us into leaving before voting," said one young woman who claimed to be a first time voter.
Another voter said he was surprised that his polling station was different from his mother's, although they shared the same surname.
"We got into polling station AA and my mother was allowed to vote there, but I was referred to another queue, although we share the same surname," said the voter.
Presiding officers also acknowledged that they were facing enormous problems due to mixed up names.
"We had expected to find the names in alphabetical order but everything is mixed up. It's taking too long to find a voter's name but we are doing our best. We understand the frustration in the queues," said one presiding officer.
At the Rujeko Admin polling station, one voter said it took him a solid three hours to get into the booth.
There was, however, virtually no queue at the Civic Centre at around noon, with 186 having voted in A at 11:58 and 200 in B as at 10:00. There were three assisted voters and 16 turned away voters in A, zero assisted voters and eight turned away voters in B.topnews