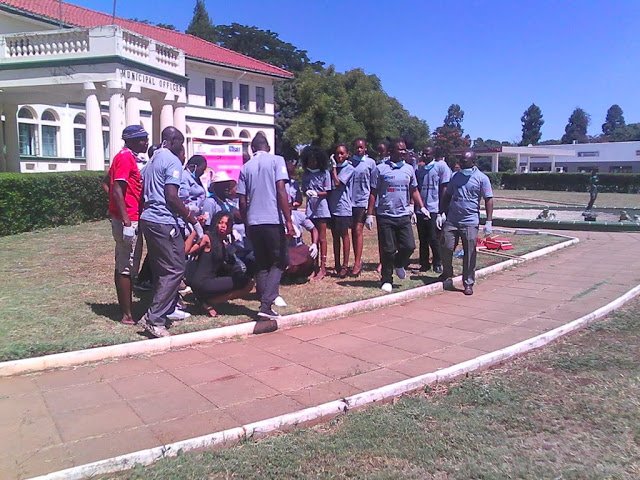 Tinaani Nyabereka.
GWERU – A new Non-Governmental Organisation (NGO) which deals with
vulnerable adolescent girls has denounced early child marriages and gender
based violence (GBV), pledging to work hard to combat the social vices.
The Women of Africa Trust (WOA) says
society cannot genuinely progress if the wellbeing of women and girls is not
promoted.
Speaking at a clean-up campaign
and child abuse forum in Gweru recently, WOA chairperson Hardlife Mudzikisi
said women deserved the same opportunities men.
"Depriving girls an equal chance
to be in school and further their education should be a thing of the past.
Let's take part in equalizing opportunities for all children as a way of fighting
early marriages, forced marriages and GBV especially in rural and poorer
communities.
"We glad to be spearheading the
sanitary wear distribution programme in rural schools because it's of much
importance to girls and women because what affects them affects the whole
society," said Mudzikisi.
National Association of
Non-Governmental Organisation (Nango) Midlands coordinator, Titus Mangoma said
the launch of the clean-up campaign was aimed at fighting littering in the city.
"As we fight for the rights of
the girl child, let's improve our city by fighting littering. As Nango, we are
happy most NGOs have embraced the national clean-up initiative. Recent rumours
about a typhoid outbreak mandate us to do more in the fight for a cleaner
environment," said Mangoma.
Gweru citizen Loveness Chikwiro
encouraged people to come up with many clean-up exercises, saying environmental
health issues must be a worry for everybody.
"We need to stay in a clean and
safe environment and it's everyone's duty to clean-up. Let's keep areas where
we buy food clean," said Chikwiro.