…And the watcher says Its okay or Zvikahle
I do not know whether I am getting old or the people I speak with are pulling my leg. Whenever I engage in a conversation, they usually say to me "mudhara."
The gist of this contribution is not really on my age, but on the hopeless surrendering spirit that is with Zimbabweans. Meet any stranger or acquaintance and ask them in Shona how they are, and the answer is the same, "Zviri bhoo, Its Okay or Zvikahle." Even if "zvakapresser muviri wese" they will say "zviri bhoo."
I think we take this from our British colonial legacy where we have all our salutations on the positive. Like "good morning," "good day," "good evening" etc. without finding out from the other chap how they are really, really feeling. I mean, what is good about a morning or an afternoon if one is not aware of a neigbhours' circumstances? That is why we have a plain "masikati," which is then followed up with a qualification "Maswera sei?" That's more like it if you really want to know what is happening in a person's life.
Unfortunately for us, that colonial affliction has permeated society so much that it has become part of folk lore. That is our culture now. And our very undoing in terms of how our political affairs, our very own lives have been taken for granted.
Now back to that resigned feeling that has anesthetized Zimbabweans. The dominant languages in our culture are Shona and Ndebele. The people of Chiredzi in Masvingo Province have been influenced on the language front by the Karanga people of Zaka, Nyajena, Chivi and to a lesser extend the Ndau people of Chipinge. Even if you are in their home town Chiredzi, it is rare to hear them using their mother tongue. When I went to get my national ID at the District Administrators' office in 1985 I noticed so many elderly people having their names being distorted by clerical staff who were issuing the documents. So you end up with Mukachana instead of Mukhachana, Mushava in place of Muhlava, Makanani when it is supposed to be Makhanani.
Chilonga bridge in Chiredzi
All this is water under the bridge now. But there is something that is devastating that we have learnt to live with as a legacy of this relationship with the rest of the citizenry. Loyalty, submissiveness to whatever is the situation, docility. We just tell ourselves as Zimbabweans that "Its bhoo!" "Ndizvo, chero zvazvaita chikepe chedanda." We go with the flow.
In the local Shangani language that is spoken in Chiredzi rural, the equivalent of 'Zviri bhoo' is "zvikahle" if you come from the Chilonga and surrounding areas. If one goes dipper into the hinterland, at places like Chingele, Chikombedzi, Malipati, Muhlanguleni – the "zvi.." is substituted with "svi.."
So, 'svikahle.' Its OK, zviri bhoo, ta tata.
What is OK in Zimbabwe? In Chiredzi? Why has it become so tragic? Are other parts of Zimbabwe spared?
Potential source of employment lies in sugarcane plantations
When cyclone Eline damaged the bridge near the former Chambuta Refugee Camp many years ago the entire Shangani community in Zimbabwe became excommunicated from the rest of the country. At the time of writing, nothing has been done to rebuild the bridge that links the TransFrontier Gonarenzou Park to the Buffalo Range Airport. The South Africans are waiting with their moneybags on the other side of the border and are entertaining all the tourists from all over the world. Svikahle.
Beside the investment in sugarcane irrigation in the Lowveld, that is in Triangle, Hippo Valley, Mkwasine and a few remaining commercial farms surrounding the town of Chiredzi, there is no economic activity generating employment for young people. There are not technical colleges, universities or any vocational training institutions. The only ones that are available and credible are in the town of Masvingo and its environs and we continue to sing Svikahle chorus.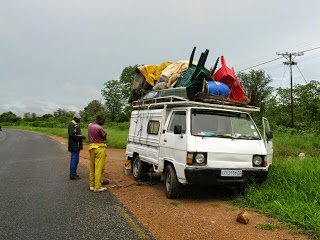 Those living in SA coming home for Xmas
The only other link to civilization after the Chambuta bridge was swept away by that cyclone is a low bridge located at Chilonga Irrigation Scheme to carry produce to the market in the town of Chiredzi. The structure is so weak that during the last rainy season, Lundi river swept the thing away cutting off the whole community. In the town of Chiredzi itself, the once clean, almost manicured town has now turned into a rural centre. If one is not driving a 4X4, it is safe to drive parallel to what was once the tarred road. The dust road, over the years, has actually crept right into town and the town council now needs graders to maintain the dust roads and we again sing Svikahle. Its bhoo!!
Because there is no employment being generated in the district of Chiredzi, unless if one is prepared to slave in the sugarcane plantations, the young men and women have migrated to South Africa where they are doing menial jobs. They have their own "Wenera" now and this has had negative consequences on the family structure. Young men come home to die after having contracted HIV/Aids.
The degree of poverty in the rural areas is crushing. Households still use the bush for their toilets. There are no roads to speak of, except pathways. There is no furniture in schools. In fact, going to school is no longer regarded as a license to a better life but a waste of time. Hence the exodus to South Africa to work in farms and firms in that country. Svikhale.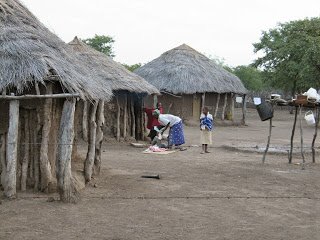 Living standards remain generally poor
Earlier, I did ask the question, is this happening in Chiredzi only? Hell no! The whole country is in decay. Is it because of sanctions? Maybe to some extend. Who will come to our rescue as a country? Not SADC, not Zuma, not South Africa. Neither does our solution lie with the AU.
We have all these calamities because we have said to ourselves its bhoo. Svikahle. Life goes on. That is the tragedy that has gripped Zimbabwe, where we expect someone, somebody, somewhere to put their head on the block. And we tell ourselves that it will be OK, soon. In the meantime we run away to South Africa, Botswana, America, UK, Europe and Australia to make some noise from there. The people we sent to represent us in government have also developed this leg disease. Instead of mobilising the people to say "It's not right, it's not OK," they have taken tthat opportunity to fight their factional wars .
As long as we continue on that path, the tragedy will continue to unfold. While other countries in the entire world are leapfrogging in terms of development, Zimbabwe backtracks and reminds itself of the war of liberation struggle. It was a good struggle and it brought many positive changes. Isn't it time to consign it to history, get over it and forge ahead? Otherwise for now let me say svikahle!!!