Tokwe-Mukosi flood victims settled at Chingwizi in Mwenezi are facing a bleak Christmas following government's failure to compensate them this year.
Three quarters of the 3000 of families affected by Tokwe-Mukosi floods which hit Chivi District in February and March were moved to Chingwizi transit area but up to now they are yet to get compensation.
Scores of affected families told Tell-Zimbabwe recently that they wished if government could be considerate enough and spare them the heartaches through making available part of their compensation money so that they can join others in enjoying Christmas Day and New Year Day celebrations.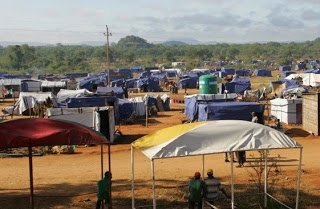 Raina Moyo,45 who has not yet received compensation appealed to government to extend assistance even in kind so that they see off the festivity in good spirits like their counterparts who were compensated.
To date government has disbursed a paltry $2 million of the estimated $9 million for compensation and only a quarter of the affected families have received amounts ranging from $600 to $15 000 depending on the developments made on their original homes at the time of evacuation.
"Some of the settlers at Chingwizi were compensated but the large number, with my family included, is yet to receive anything. This is disheartening especially considering that it is Christmas time when others will be merry-making. We hope government will consider our plight between now and Christmas Day. For now, we are not selective on our demands that we would accept even food hampers, especially for our children," said Moyo.
Berita Vhurumuka who said the only solution to the trauma they suffered during the floods is compensation adding that the national budget is silent about their plight.
"We have suffered as victims of natural disaster and making matters worse Minister of Finance and Economic Development Patrick Chinamasa was silent about compensating flood victims when he announced the national budget last month. The budget is silent about when and how Tokwe-Mukosi flood victims will be compensated.
"We call upon powers that be to make available some funds for those who did not receive compensation specifically for Christmas," said Vhurumuka.
"When we ask the powers that be, they give us non-committal responses and that makes us lose hope."
A village head, Samuel Tsikisai said their wish is to lead a normal life given the fact that they have been given permanent sites.
"We want to lead a normal life like any villager in the country but as long as we are not compensated life will not be good for us. Our poverty has become man-made because some of us we were living better lives before the disaster and used to enjoy Christmas like others. As it is many people here wear long faces as each one is pondering on what to do during Christmas," said Tsikisai.
Contacted for comment Provincial administrator Felix Chikovo said government is yet to release funds to that effect adding that as soon as resources are made available the affected families will get their compensation.
"Although it is difficult for me to say when the compensation will come from this end, our commitment as government is that we are seized with the situation and everyone will receive his or her share. We are going to compensate every affected family according to the results if the property assessments," said Chikovo.
He said the families have not been receiving their monthly food rations and government is moving with haste to assist them.
"I can confirm that it is now two months without families at Chingwizi receiving their food rations. The department of social welfare has released food vouchers for the families but we are presently working on transferring the vouchers into cash for Grain marketing Board to start supplying the food. Minister of State for provincial affairs Cde Kudakwashe Bhasikiti is in Harare ,seized with the issue, as we speak," said Chikovo.
"However, Tongaat Hullet is expected to supply some food to Chingwizi and government will also supply the rations anytime from now. For their appeal for Christmas food hampers, that is a genuine request, we will consider that and take it to the next office for consideration when they make an official request."Local