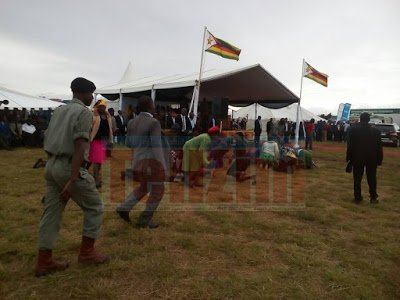 Women weep at rally


Itai Muzondo Midlands Bureau
MVUMA – Many women who attended President Emmerson Mnangagwa's mini rally at Mvuma Stadium today (Saturday) cried when it was announced that first lady Auxillia Mnangagwa will not be contesting to retain the Chirumhanzu-Zibagwe seat in the upcoming elections.
President Mnangagwa told the crowd that his wife had relinquished the post of MP to concentrate on her new role as first lady.
A group of women wept uncontrollably after the announcement and it took security personnel and ushers to calm and return them to their seats.
Some women, however, started crying long before President Mnangagwa had announced the 'sad news', causing many people to suspect that it was all a stage-managed show of emotions.
More to it, known Zanu PF youths from Masvingo were also among the weepers.
"You have been working with Amai Mnangagwa as your MP.
"When I returned from exile, she advised me that since I was now President and she was first lady, she wanted to step down as MP for Chirumanzu-Zibagwe and concentrate on her duty as mother of the nation.
"We have therefore agreed that she steps down and seizes to be MP forthwith.
"This does not mean she will abandon you but she will continue to support you and continue with projects she has been doing," Mnangagwa said.
He said the Chirumanzu-Zibagwe constituency had to choose a replacement.
Mnangagwa had earlier chronicled how the first lady worked in the constituency from the time he was MP for the area in 2008.
He said the first lady continued with the projects when she became MP for the area after his elevation to the Vice Presidency in 2014.
Projects done by the first lady include a women's bank, community gardens and women's clubs. She is also leading the construction of a new Zanu PF district office in Mvuma.
The President spoke glowingly about his wife, pointing out that legislators who had remained in touch with their constituencies like she did deserved to be re-elected.
Currently, the first lady is the Ministry of Health's ambassador in the fight against cervical cancer.
She has been to Bulawayo and Gweru advocating for early treatment of cancer.top news