Minister of Youth Indigenisation and Economic Empowerment Patrick Zhuwawo has assured youth officers that they will not be fired from various government departments despite rumours that most them who were employed after completing national youth service popularly known as green bombers because of the colour of their uniforms were not qualified for their jobs.
The youth told Zhuwawo during his familiarisation trip to Masvingo this week that they were in panic mood as they were afraid that they would receive three months notices terminating their jobs since they do not hold requisite qualifications for jobs being done.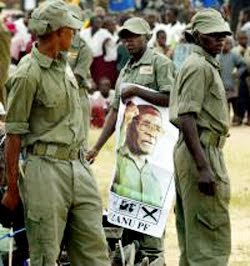 But Zhuwawo said their background was going to protect their jobs.
"I know where you come from and I know your roots" said Zhuwao
The new minister further threatened anyone who would attempt to fire the youth officers saying he would rather have those calling for the dismissal of the youths going than firing green bombers.
"Kana wakapinda nepadumbu usingazivi kuti mayouths akabva nekupi, mind that it is your job that will be on line, "charged Zhuwawo.
The green bombers are known for campaigning for Zanu PF during election time. The youth officers are accused of terrorizing opposition political supporters and get jobs in return.
The minister however, failed to answer some questions saying that he was still on induction and had to consult was not yet furnished with all the information and he needed time to consult with the previous ministers.
Currently, the government is in the process of auditing the civil servants.local