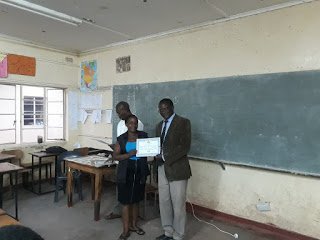 Dr Zhuwarara hand over a certificate to one of the female trainees
Stephen Ephraem                                               
CHIPINGE – A total of 36 filmmakers in the district have been empowered to come up with their own film concepts following a recent training workshop that was funded by government through ZimDigital.
The workshop was held at Chipinge Primary School from 3-6 August and it covered five areas namely production, script writing, cinematography, directing and editing.
The workshop was held under phase three of ZimDigital workshops where staff from Zimbabwe Film and Television School of Southern Africa (ZIFTESSA) trained aspiring filmmakers in Bindura, Chinhoyi, Kariba, Marondera, Nyanga, Chimanimani, Chipinge and Beitbridge.
Under ZimDigital Migration project, Zimbabwe is expected to move radio and television from old analogue to new digital system which shall open space for up to 24 TV channels.
Speaking at the sidelines of the workshop, the Director of ZIFTESSA, Dr Rino Zhuwarara said the digital revolution had many advantages.
"The digital revolution adds advantages like better picture and sound quality. It brings competition to the industry since the government will license new private television players," said Zhuwarara.
On what content ZimDigital expects from filmmakers, Dr Zhuwarara was quick to point out that local languages were a priority.
"Chipinge filmmakers should produce Ndau and Tsonga (Shangani) films. Advertisers follow where the people are. When you create content for local audience, TV stations will definitely buy your film because advertisers will market themselves using such films.
"I urge women to take up professional filming. Currently, women constitute about 40 percent of our intake at the film school. I expect more women to come forward. It was overwhelming that eleven women participated at the Chipinge workshop."
One of the trainees, Ropafadzo Dunira, who is a manager in a parastatal, expressed gratitude after completing the course.
"The training we received helps us as managers to improve our communication skills and how we attract clients in business with minimum budgets. ZimDigital workshops help to increase production at the workplace," Dunira said.local