Exsto Makunzva
Zvishavane businessperson Nyasha Mhazo decided to celebrate his 42nd birthday with the elderly at Jairos Jiri old people's home on October 21.
Instead of throwing a party and receiving presents, Mhazo took his birthday as an opportunity to remember the needy and share with them whatever he could afford.
Coincidentally Mhazo shares the same birthday with his friend and Chivi businessperson Storneshed Chikambure popularly known as Huruyadzo.
The two donated groceries worth USD647-00 to the old people's home. The groceries included mealie-meal, cooking oil, sugar among other items.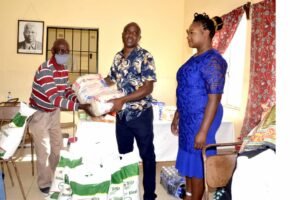 The event started at the local community radio station YaaFM where Mhazo where he also share the same birthday with coo-presenter Chishamiso Chigonde.
From YA FM a delegation of a few of the radio station staff, friends, relatives and Mhazo's wife Sarah proceeded to Jairos Jiri centre where they had lunch with the elderly inmates. The lunch included packs chips and chicken from Chicken inn, drinks and a cake.
The inmates could not hide their joy as they enjoyed their meal.
Speaking to the Media on the side lines of the event, Mhazo almost broke down as he narrated how God raised him from humble beginnings to where he is now saying he was happy to celebrate his birthday in a different way for the first time in his life.
'I feel very much happy to celebrate my life this way, something that I have learnt from my spiritual father prophet Emmanuel Makandiwa. He always celebrates his birthday with street children at City Sports Centre every year. Also considering my background, I saw it fit to give to the needy. Life was not that rosy for me when I was growing up. I did not even know where my father was. I grew up with my mother's relatives and I remember very well after scoring four units at grade 7, the following year I had to repeat because the was no money for me to go for secondary education. However, that following year I went to stay with my sister and managed to go to Oravhi secondary school. On my first day at school I met a teacher by the name Chimuka who was new at the school and was coming from Cuba. After noticing my plight through my dressing but realising how intelligent I was, he volunteered to stay with me at the school and to pay for my school fees. After secondary education, I trained as a teacher and later did a degree in Music with Midlands State University (MSU). I then left teaching and started my own business together with my wife Sarah," said Mhazo.
Nyasha and Sarah are the Directors of Nyasam Hardware and Nyasam Kitchenware located in Zvishavane. Mhazo says his background is the one that pushes him to share the little that he gets with others.
Jairos Jiri chairperson for Zvishavane Clinic Lawrence Hlabano said he was humbled by the gesture shown by Mhazo and his wife. 'Am so humbled by the gesture shown by the Mhazo family. We accept this gift with much gratitude. Other people celebrate their birthdays with their immediate families and receive some gifts but this couple decided to do it with the needy and to give out gits instead. At times we even run short of Mealie meal and most of the basic needs but we thank God for this couple', said Hlabano.
The couple promised to do more at the Home as this was just an eye opener.