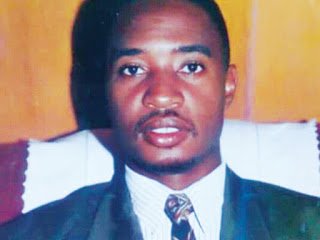 Upenyu Chaota


MASVINGO – After a decade of hope and continuous searching, the Hapazari family in Chiredzi has finally come to terms with the almost certain fact that their relative and former Zimbabwe Electricity Transmission and Distribution Company (ZETDC) senior customer services officer who went missing on June 4, 2008 could possibly be dead.
Zimbabwe experienced the worst form of political violence in 2008 after the late MDC leader Morgan Tsvangirai defeated then president Robert Mugabe in the March 29 presidential polls which resulted in a runoff Dumisani Hapazari (pic) election on June 27.
Zanu PF unleashed its terror machine terrorising real and perceived MDC supporters in an operation famously dubbed, 'June 27, Mugabe muoffice'.
According to reports, many opposition supporters were tortured, raped, maimed and killed resulting in Tsvangirai pulling out of the runoff saying he was saving his supporters.
Dumisani Hapazari, who was a staunch supporter of Tsvangirai's MDC, is one of the many people who disappeared during the reign of terror and has been reported in various media outlets, back then, to have been found dead but his family says his body has never been found to date.
TellZim News accessed Dumisani's wife, Doreen's court declaration on the presumption of her husband's death. She says her family is devastated by the disappearance of her husband and has been searching for a decade. She says they have since decided to file a presumption of death notice with the courts so that they can make claims from his employer.
"I married Dumisani Hapazari in 1992 and we were blessed with two daughters. My husband was an electrician by profession employed by Zimbabwe Electricity Transmission and Distribution Company as senior customer services officer stationed in Chiredzi.
"My husband became interested in politics in early 2000 and to my knowledge was a staunch supporter of MDC led by the late Morgan Tsvangirai albeit he did not hold any official position.
"There was to be a runoff of the presidential elections in 2008. What happened during the period leading to the runoff is well-documented. There was unprecedented political violence in Zimbabwe with allegations of main political parties' supporters fighting and reportedly killing each other," said Doreen.
She said that on the day of her husband's disappearance, June 4, she was attending lectures at Great Zimbabwe University (GZU) and received a call from her husband informing her that he had a work meeting in Mutare.
"That morning he gave me a phone call. He told me he was going for a business meeting in Mutare and on Saturday we were to go to South Africa where he wanted to buy me a motor vehicle.
"We were a couple that communicated regularly and around midday I called his cell phone but it was not reachable. I kept trying to no avail.
"In the morning, I called our children to inquire if dad was home and they said he had not returned home from work the previous day. They also told me that before he left for work on June 4, he had packed his clothes and toiletries as he was going to come back and collect them for his Mutare meeting. That bag was still in the house," said Doreen.
She said she received a call from ZETDC inquiring about the whereabouts of her husband as he had not showed up for the meeting in Mutare.
"I also received a phone call from his workplace inquiring where my husband was as he was supposed to be attending a meeting in Mutare. I told them we were also not in the know and wondering. For three days, I incessantly tried to call his number and I also called his relatives and friends but no one knew anything," said Doreen.
She said she got worried and left her studies in search for her husband until she received a call from her husband's assistant that Dumisani left work in the company of two man dressed in suits and dark glasses and drove off in one of the company's recently-purchased vehicle.
"I went to my husband's workplace and inquired from the receptionist who told me that two men arrived at their office in broad daylight and asked to see my husband. I was told they went away together in the ZESA Mazda BT50 motor vehicle which had recently been purchased.
"He never came back to work that day. His other workmates only had the story that he got out of the office with some smartly-dressed men in dark glasses and they never saw him again," said Doreen.
Doreen went to the police to file a report and was told that her issue was complicated and the police refused to take the case and she went back again and the case was finally accepted under CR 49/07/08.
"The police told me that even the ZESA motor vehicle could not be traced. They said it was not registered. They also said they could not get its particulars like engine and chassis numbers," said Doreen.
Three days later, Doreen says she woke up to shocking news from both print and electronic media suggesting that her husband has been murdered with her body discovered.
"The media reports were correct that my husband could have been murdered but were inaccurate that his body was discovered because we haven't been able to and we have been engaging the police but nothing until we have decided to file a presumption of death so that we can claim something from his employer and also wind up my husband's estate," said Doreen.
Dumisani's brother, Moses said that after a decade there is no hope that there is any sign of life and believes that the two smartly dressed man who went out with Dumisani are the ones who killed him on June 04.