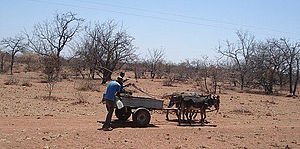 Cephas Shava
MWENEZI – The district of Mwenezi is potentially one of the country's richest, with capacity to support livelihoods for millions of people if its abundant natural resources are fully exploited and managed.
This was said by the Minister of State for Masvingo Provincial Affairs, Ezra Chadzamira while addressing Zanu PF supporters who gathered at Rutenga for victory celebrations hosted by Mwenezi East Member of Parliament (MP) Joosbi Omar.
Chadzamira pointed at the district's vast unharnessed opportunities that include land, forests, wildlife and sunshine.
"Mwenezi district is blessed with vast God-given resources. In the entire province in particular and the whole country in general, Mwenezi is the district with many cattle. The district has fertile soils, diverse minerals, several game conservancies and many big dams like Manyuchi which are not being fully exploited for the benefit of locals," said Chadzamira.
He warned against corruption at all levels of communities and called upon the people to work hard and make a success of the district.
With the prospect of a dry port being established at Rutenga, Chadzamira said there was a chance for the growth point developing into a large urban area, bigger than City of Masvingo.
Omar's victory celebrations were held under the theme 'Celebrating Loyalty and Faith in Developing Mwenezi East Together as One Team'.
The event was attended by Zanu PF politburo member and senator for Chivi-Mwenezi Josaya Hungwe, other MPs and various government heads of departments.