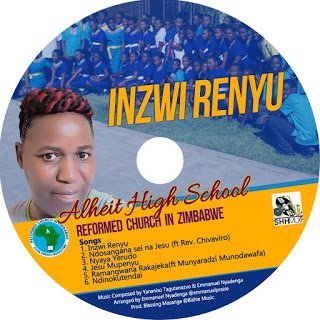 GUTU
– The Reformed Church in Zimbabwe
(RCZ)-run Alheit High School choir has launched its six-track album called
Inzwi Renyu.
The album, which features Reverend Chivaviro
and Munyaradzi Munodawafa, was produced by Blessing Masanga of Bishie Music.
The songs are Izwi Renyu (title track),
Ndosangana Sei naJesu ft Rev Chivaviro, Nyaya Yerudo, Jesu Mupenyu, Ramangwana
Rakajeka ft Munyaradzi Munodawafa and Ndinokutendai.
Two of the songs namely Jesu Mupenyu and
Ndosangana sei naJesu were taken from the RCZ hymn book.
The choir director and composer who is also the
school music teacher, Yananiso Tagutanazvo said she was happy to complete the
project they started around June.
She thanked the pupils for their commitment, the
school for giving the group financial support and the responsible authority for
the moral support rendered during the production phase of the album.
"We faced a number of challenges but the school
as well as our fund-raising team bailed us out and we made it. The pupils I have
are committed and I think we have the right team which worked hard for the
success of the project," said Tagutanazvo.
She also said they were working on the videos
for some of the songs, with the video to the title track already done.
"I promise our fans that the video album will
be out soon. We have already done one and we are finalising the rest. On
Ndosangana sei naJesu, we are waiting for Rev Chivaviro to find time from his
busy schedule to do his part of the video and it will be done," she said.
She also thanked the producer as well as her co
-composer Emmanuel Nyadenga for the effort they put to produce the fine work of
art.
Tagutanazvo said the choir was made up of
pupils from form one to six, some of them doing music as a practical subject.