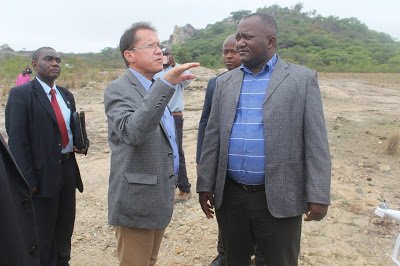 Droege Energy, a
Germany-based power company, has expressed interest in investing more than US$13
million dollars in a solar project at Lake Mutirikwi which will supply
electricity to new irrigation schemes and contribute to the national grid.
Company Chief
Executive Officer (CEO), Gustavo Droege paid a courtesy call on Minister of
State for Masvingo Provincial Affairs, Ezra Chadzamira last week and made clear
his company's interest in setting-up a 10 megawatt solar plant at Lake
Mutirikwi.
After the
meeting, Droege and his delegation toured Lake Mutirikwi to have a firsthand
appreciation of the site.
In an interview
with TellZim News, Droege said his company was committed to helping the people
of Zimbabwe improve their economy.
"We are
happy to invest in Masvingo and as Droege Energy, we are committed to help the
people of Zimbabwe improve their lives," said Droege.
Asked whether
the project was inspired by the 'Zimbabwe is Open for Business' mantra, Droege
said their interest in the country's energy sector had been warmly received by
government.
"Yes we
were inspired by the conducive business environment and in Harare, we visited
different ministers and all of them were impressed by our proposals," said
Droege.
In his own
remarks, Chadzamira welcomed the development and said he was optimistic the
project will succeed.
"We welcome
this project as we work towards vision 2030. This is a very big project which I
am sure will transform the lives of the people of Masvingo," said
Chadzamira.
The Mutirikwi
solar project is Droege Energy's first major proposed prospective project in
Zimbabwe and is expected to be completed in the first quarter of 2019.