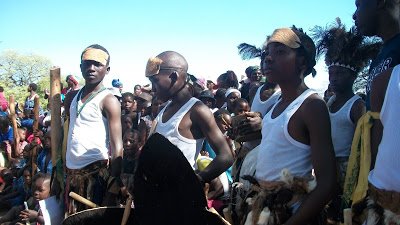 Checheche Primary School dance group
In a
case resembling the Biblical David and Goliath account, underdogs Checheche
Primary School ended Gaza Primary School's five-year dominance as district traditional
dance champions during competitions held at St Peters' Primary School.
Prior
to this year's competitions, Checheche Primary School had not been known for
making it to the district level.
At the
event, teams danced the Muchongoyo set piece plus one other dance of their own
choice, with the combination of marks obtained in the two categories
determining a team's overall mark.
In the
Muchongoyo category Gaza, Madhuku, Muzite, Maronga and Checheche were the
strongest but in the own choice category, St Albertina, Checheche and Gaza
outclassed others.
It was,
however, Checheche who won the best overall prize after a sterling performance
even in the own choice category where they danced to the Chokoto beat. Maronga,
Madhuku, Gaza and Muzite took second, third, fourth and fifth positions
respectively.
Speaking
at the occasion, National Primary School Heads (NAPH) district chairperson, Mr.
Chipongo thanked all teams for according pupils a chance to showcase their
talents.
Chipinge
District Schools Inspector (DSI) Richard Gabaza urged the winning teams to
bring the national trophy to Chipinge.
"Checheche
is now representing Chipinge district so let us support the team with all the
time and resources that we can spare so that they can make us proud at the next
level.
"The Muchongoyo
dance set piece emanates from Chipinge so you would be doing us great honour if
you bring the trophy where the dance belongs," he said.