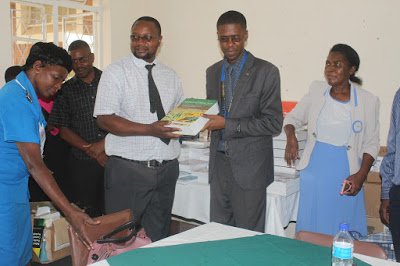 The local
chapter of the Rotary Club International on Monday, November 26, visited
Masvingo Provincial Hospital where they donated dozens of text book to the
school of nursing.
A representative
of Mashoko School of Nursing was also present to receive a share of the
donation.
Masvingo
Provincial Hospital School of Nursing has an enrollment of over 100 students
and had been experiencing financial problems which made it impossible to buy
all the books needed for the library.
Speaking on
behalf of provincial Medical Director Dr Amadeus Shamu, Dr Tapera Sarawoye
thanked the club for the good work which he said would go a long way in helping
the institution to produce quality nurses.
"As an
institution, we are very humbled by this generous gesture and we are sure these
books will help us to produce the best nurses. I hope Rotary will continue helping
and supporting us," said Sarawoye.
Also expressing
her gratitude towards Rotary Club's donation, the school's tutor-in-charge,
Rosemary Machuwaire said the donation was a timely intervention.
"This
donation has come to our rescue because we had a book deficit in our library
and we would like to thank Rotary Club for this timely intervention," said
Machuwaire.
Masvingo Rotary
Club president, Mike Zulu called upon the nursing students to join the club and
also promised to keep working hand in glove with medical institutions.
"We urge
you to use these books wisely to improve your skills and knowledge and guard
the books jealously. We also look forward to have nurses in our club because we
are open to everyone," said Zulu.
Last year,
Rotary Club in partnership with Book Aid International made a similar donation to
Silveira and Morgenster school of nursing as well as to the University of
Zimbabwe (UZ) library.