By Tell Reporter
The cat and mouse game between Masvingo municipal police, vendors and commuter operators ended it a tragedy yesterday as the council truck knocked and killed a child during the ugly skirmishes at the Mucheke bus terminus.
Angry vendors who had dumped their wares fleeing from municipal police regrouped after watching an innocent baby being run over by a council vehicle. The vendors managed to apprehend the driver who they beat and went on to burn the council truck. The Fire Brigade van which arrived immediately to put off fire could not help as the angry mob attacked the driver forcing him to make a u-turn leaving the truck being reduced to rubble.
A commuter Omnibus which was parked nearby was also caught up in the scuffle as it was also reduced to a shell.
Masvingo city mayor Hubert Fidze apologised to Masvingo residents.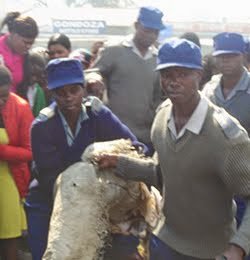 Police officers with the body of the child
"I am highly pained by this loss of innocent life. I really apologize to the people of Masvingo and urge them to refrain from putting the law into their own hands. I cannot say much because at the moment we are waiting for the full report of what happened from the investigations being done by the police," said Fidze.
Up in smoke …. council truck. Local