MASVINGO- The Minister of Finance and Economic Development Patrick Chinamasa has recently extended his begging bowl to Western donors, contradicting President Robert Mugabe's pronouncements that his government does not need Western aid.
President Mugabe is fond of attacking Western donor countries, and was quoted late last year saying Zimbabwe does not need Western aid.
"Europe and America, when they give little funding assistance to countries, they always attach conditions, and that is our objection," he told Guangdong TV on his State visit to China last year.
However at a gathering for the commissioning of rehabilitated sewer and water infrastructure in Masvingo on Friday last week, Chinamasa, who was flanked by Vice President Emmerson Mnangagwa and other senior government officials, made passionate pleas to for Western donor aid.
"I appeal to the development partners to scale up their support and I hope that this appeal will not fall on deaf ears," said Chinamasa.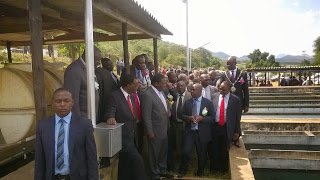 VP Mnangagwa chats with Minister Kasukukuwere at Bushemead last Friday
The refurbishment of water and sewer equipment in Masvingo was carried out to the tune of millions of US dollars through Zimfund, an initiative administered by the African Development Bank (AfDB) but entirely bankrolled by such countries as Australia, Britain, Sweden, Norway, German and Denmark.
"I want to say to our development partners, we value their support and the complementary role that they are playing in the restoration of our economy," Chinamasa said while addressing the co-chair of Zimfund,
Lars Ronnas,
who is also the current Swedish ambassador to Zimbabwe.
Recently Chinamasa was publicly rebuked by the President for making an 'unsanctioned' decision to suspend bonuses for civil servants.
Since its fallout with the West over a decade ago, the government has tried to maintain a brave face, with President Mugabe persistently chiding the West and telling them to keep their money.
"Zimbabwe shall recover by her wits and resources. Zimbabwe will not be saved by any country or organisation, least of all Western," the president was quoted as saying back in 2010.local