Tell Reporters

Twenty nine out of 300 flood victims arrested at Chingwizi holding camp yesterday appeared before Chiredzi Magistrate Tayengwa Chibanda facing charges of Public Violence as Defined in Section 36 of the Criminal Law Codification and Reform Act Chapter

9:23

.

The state lead by Liberty Hove said that Patrick Chaungwesha Chinounda and 28others others allegedly ran amok at Chingwizi Holding Camp throwing stones at the police leading to them disarming the cops as well as injuring some villagers.
A team of four defence lawyers from the Zimbabwe Lawyers for Human Rights Phillip Shumba, Collen Maboke, Martin Mureri and Blessing Nyamaropa registered complains against the Zimbabwe Republic Police saying the arrest of the victims was unconstitutional.

"We would like to highlight some of the complains we have against the police to this hounarable court. There are a number of accused persons who were assaulted by the police. Accused number one Patrick Changwesha was assaulted by police, upon his arrest he was taken to
the site where a burnt police vehicle was and he was humiliated with some police officers saying they wanted to salute him. They assaulted him using open hands and button sticks," said Shumba.
The lawyers further allege that the police denied their clients legal representation. They also said police denied accused persons food whilst in custody at Triangle Police camp.

Nyamaropa also quizzed the state to dismiss the case saying the twenty-nine were unlawfully arrested.
"It is very clear that there were violations of human rights therefore the arrest is unlawful and accused persons must be released. If you look at Section 50 subsection 8 of the new Constitution there are set guidelines as to how one must be arrested and treated. This arrest
did not meet all of that hence it is illegal," said Nyamaropa.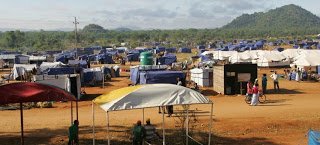 Chingwizi Transit Camp
State witness Inspector Victor Chinoni said the accused persons disarmed the police with some of the ended up wielding police shields and teargases.
"The police were running after the accused persons, tripping them and arresting them. No one was assaulted by the police by only minimum force was used to affect the arrest," said Chinoni.
Chinoni however said he is not aware of Triangle Police Station's holding cells but he insisted that the accused were not over crowded since he found them well spaced when they were seated yesterday morning.
Magistrate Chibanda however said because of time the accused would sleep at remand prison as the defense had said the conditions at the police cells are inhuman.
The matter will continue today at 1430 hours.