The Garikai flea market popularly known as Chitima market due to its location adjacent to a railway line in Masvingo town is now officially renamed after the First Lady Dr Grace Mugabe as a way of honouring her for supporting vendors in Zimbabwe.
Addressing vendors in Masvingo today (Thursday) at the usually squalid market, the Queen of Grace ZIMASSET Trust secretary general, Ephraim Chizola said the market is now called Dr Grace Trade Center.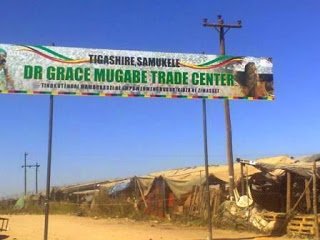 "The Queen of Grace ZIMASSET Trust is opening a new chapter in Masvingo as we aim to improve the lives of vendors. We have changed the Chitima market to Dr Grace Trade Centre as the First lady has improved the lives of our vendors", said Chizola.
However, there are no toilets at the market.
Chizola said council should let vendors trade in the streets until they are allocated proper places to do their business.
"No one is going to remove vendors from the streets, they will remain like that until they are allocated a proper place by the council," added Chizola.
Masvingo Town Clerk Adolf Gusha admitted that it was his council's duty to look for a place for vendors. Despite the fact that municipal police is chasing vendors every day, Gusha said they were no longer going to remove informal traders from the streets.
"It is our duty as the city council to find a proper place for vendors, but for the meantime they will remain in the streets", said Gusha.local