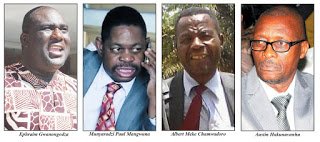 . . . as Zanu PF goes it alone in Chivi Central
. . . eight candidates emerge
Passmore Kuzipa
Are the current coalition talks among opposition political parties progressive or retrogressive? The negotiations seem to be taking much time of opposition parties, and more importantly, has brought uncertainty on the criteria that would be used to field candidates for national assembly and local government at the 2018 general elections.
The Movement for Democratic Change led by Morgan Tsvangirai (MDC-T) seems to be relaxed or confused about the current coalition negotiations as party members are too relaxed to express their interest to contest different positions except for the known perennial losers.
By this time in 2012, MDC-T members were all over jostling for positions ahead of July 31, 2013 general elections but the mood is totally different this year due to uncertainty of the coalition outcome – it's not clear what criteria the opposition parties would use to field national assembly and local government candidates, and this has forced a number of interested candidates to hold on a bit.
Though this might be too early to conclude that coalition talks are negatively affecting MDC-T's preparations for the 2018 general elections, pointers are saying exactly that right now especially in Chivi Central where Zanu PF is fighting against no external opposition, with eight candidates said to be readying themselves for the party primaries.
Incumbent Chivi Central legislator Ephraim Gwanongodza is facing stiff competition from seven party members who want to replace him at party primaries. Gwanongodza has already expressed his interest to seek re-election in 2018 and will battle it out with Munyaradzi Paul Mangwana, Wellington Mapuvire, one Major Mahapa, Susan Madzivadondo, Albert Meke Chamwadoro, Maburitse and Austin Hakunavanhu.
Above mentioned are already doing different developmental projects in Chivi Central as they strategically position themselves ahead of party primaries and this can show how Zanu PF is serious about winning the 2018 general elections. Though Zanu PF is yet to come up with candidates selection criteria, interested members are already using their resources to prepare for the primaries hoping that they will be eligible to contest.
Gwanongodza has managed to fulfill quite a number of projects he promised during the 2013 elections. He is one of the best Zanu PF legislators in Masvingo province in terms of performance. He built classroom blocks for more than three schools, poultry projects for women and initiated a soccer tournament for the youths. Gwanongodza, however, is accused of being a Generation 40 (G40) loyalist and this might spoil his chances of winning the primaries considering that the other faction, Team Lacoste is currently controlling the province.
Team Lacoste supports Mangwana who is trying to resurrect after losing dismally to Gwanongodza at the 2013 primaries. Mangwana fell out of favour with the Chivi Central electorate after he allegedly did nothing when he was voted into office in 2008. Therefore, he has to do a lot of work to convince the electorate that he is indeed a changed politician. Maybe, Team Lacoste faction will assist him to perform wonders otherwise Gwanongodza would embarrass him again.
Madzivadondo, who is the provincial secretary general for Zanu PF women's league, will likely give Gwanongodza and other candidates a hard time. She is very active and being in the provincial executive gives her a bit of advantage. Madzivadondo's biggest challenge is that none of the two factions is prioritising her as their main candidate. The same challenge faces Maburitse, Major Mahapa, Hakunavanhu and Chamwadoro.
Mapuvire might get a bit of support from war veterans but would that support propel him to the top at the primaries? I doubt very much. Though he is a former provincial executive member, Mapuvire is not a front runner of the two factions and that will be a major blow to his ambition to represent Chivi Central at the national assembly.
Chamwadoro is a perennial loser. Since he tested power through a by-election at the turn of the millennium, he has been contesting and losing every primary election. Probably, he is affected by the limited resources he has so he will not stand a chance against well-resourced candidates like Gwanongodza and Mangwana.
Hakunavanhu is being affected by trying to be a neutral – you need to have a faction in Zanu PF in order to win an election. As long as he continues to distinguish himself as a non-factional member, Hakunavanhu will lose the primaries. He might do all the expected ground work but 2018 is a battle of factions in Zanu PF; it is either G40 or Team Lacoste. Period!
Maburitse is said to be claiming to be a member of the Central Intelligence Organisation (CIO). He is reported to be part of the Vice President Emmerson Mnangagwa team but that would not give him any advantage though. His chances are slimmer than Madzivadondo, Mangwana and Gwanongodza.
There is also Major Mahapa from the Zimbabwe National Army (ZNA) who operates under the Command Agriculture banner. Mahapa has done quite a number of projects including provision of free medical check-ups to the Chivi Central people. If he continues with those kind of projects, he might stand a chance to represent the people of Chivi Central in the national assembly.
Winner from Zanu PF will face candidates from other political parties at 2018 general elections. Dr Tapiwa Murambi who lost to Gwanongodza on July 31, 2013, is the only candidate from MDC-T who is said to be interested.
Other political parties like NCA, FreeZim and PDZ will field candidates for the sake of visibility and most of these candidates fall short of the qualities of good leaders.
POLITICAL EXPERIENCE AND EDUCATION
Chivi Central comprises experienced candidates. Dr Murambi joined MDC-T during its inception and has been contesting and losing Chivi Central elections. He is a medical doctor with at least a degree in medicine.
Mangwana is a lawyer by profession with at least a degree in law. He is a former Member of Parliament (MP) for Chivi Central and has been a Zanu PF central committee member for more than 10 years. Mangwana was the co-chairperson of COPAC, representing Zanu PF, during the constitution making process. As a learned politician, Mangwana feels he still needs another term to represent the people of Chivi Central though concentrating on his law firm would be the best decision for him.
Gwanongodza has at least a diploma in accounting. He claims to be a war vet. The incumbent legislator is one of the biggest beneficiaries of Zanu PF projects having a sugarcane farm in Chiredzi and a housing scheme in Masvingo town. Gwanongodza deserves another term considering the number of developmental projects he implemented in Chivi Central.
Madzivadondo is a former school head with at least a diploma in education. She has been a member of Zanu PF for more than two decades and is the current provincial secretary general of the women's league. Being a former teacher, Madzivadondo articulates issues very well and has equal chances of winning the primaries.
Mapuvire is a war veteran and a local businessman. Mapuvire family is very popular in Chivi and that might help him to attract some votes. Mapuvire however, lacks factional branding and that might be a big blow to his ambitions.
Hakunavanhu is a school head in Chivi; he has been a member of Zanu PF for more than three decades. He at least has a diploma in education. Hakunavanhu articulate issues very well, however, his approach to politics is more applicable in developed countries where the ground is level. He does not believe in factionalism and that could be his biggest undoing. In Zanu PF especially in Masvingo province, one has to be either Team Lacoste of G40 in order to survive.
Opposition parties therefore, are too relaxed or should speed up the coalition negotiations so that interested candidates for various constituencies would start preparing. Zanu PF is already a step forward in terms of preparing for national assembly 2018 general elections and opposition parties might find it difficult to match the ruling party's candidates if they would join the race on the 11th hour.
For contributions e-mail pkuzipa@tellzim.com or call 0772 729 937 / 0718 729 937