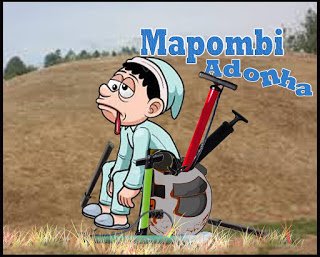 It is
the era of mass defections and sometimes I wonder whether these are
choreographed or not. All of a sudden people are dumping Chamisa enmasse kkkk.
Operation munhu wese kuZanu PF has kicked in and to what end, I do not know. Mapombi
is here again and I hope I find you well tichingoti mufaro kwamuri. I know
things are not going very well for the majority of us and we are still hoping
that the future will be bright though tatova hedu kuma50 ikoko. Imagine at 50 I
am still hoping that the future will be bright. This is what Zanu PF has done
to us and it takes man like vana Makomborero Haruzivishe to take a stand
against tyranny and say enough is enough. But my message to the guys like
Makomborero, please we are not worthy your sacrifice. We are cowards and you
will be taken to the guillotine alone while we just do social media campaigns
and it ends there. Zimbabwe is not yet ready for change so if you stand alone
trust me you will be victimized, killed or send to jail, alone. Kuno kuMasvingo
at least pane vakanyorawo havo pamadziro epaChicken Slice hanzi Free Mako so we
are with you chikomana kkkkk. See you after a year.
Now,
can someone tell me why people are dumping Chamisa like that? Is this one of
Zanu PF's campaign strategies towards their 5 million votes in 2023? Ehe, Zanu
PF is a visionary revolutionary party. They have a lot of visions these guys.
Vision 2023 yavo is saying 5 million votes. KuMDC kwedu naChamisa kuya hatina kana
plan for 2023 zvedu, ko ungatidii. We are just waiting to cry rigging foul kana
tabhurwa kkkk. We will challenge the election results at the courts we know are
captured and we lose the case and we still keep telling our people that we were
rigged and we will give you a signal to fight for our stolen vote. The signal
never comes until we reach the next election. That is how we maintain relevance
in the eyes of the electorate naNelson wedu. Tiri wero naNero kkkkk. Politics
is a game of calculated mass deception and a lot of Zimbabweans have fallen
prey to this game. You cash in on the vulnerabilities of the electorate. That
is how you stay in the game. Chamisa has become a master manipulator hence the
reason why people cheer him on whenever he opens his mouth.
There
are a lot of questions being asked around and Mapombi is here to answer them. I
hear people asking where those people said to be defecting to Zanu PF are
coming from. Dear readers, let me school you a little bit about our politics. I
need you to understand that everyone is a Zanu PF supporter. The only
difference is that some are disgruntled Zanu PF supporters and they have found
themselves in the opposition but no matter where you go, remember the road that
will take you home. We have a lot of Zimbabweans who are in the diaspora in
search for greener pastures but that does not make them foreign to their
country. Eventually they will all come back home. We don't close our borders to
our people in the diaspora. Zanu PF is the home and MDC and other opposition
parties are the diaspora. So we must understand that this exodus of people
going back to Zanu PF is nothing new at all. People are just going back home
but I need everyone to understand that these are not defections at all.
Chamisa's party has supporters and not members. Supporters do not defect, they
just go. How can you say a nobody is Zaka kwaManyiri uko asina kana position
kuMDC and probably never voted in their lives has defected to Zanu PF? You then
parade hundreds of such people and say they have defected to Zanu PF kkkk njere
shoma zvadzinoita. No one from Chamisa is defecting to Zanu PF are we clear? I hope
pajeka mongoudzana udzana ikoko. Tiri kudzifambira nyaya dzacho.
Mukati
muchinda uya anonzi Charlton Hwende dzakakwana here. Now is see why MDC
sometimes ichitadza kuita zvine musoro. How can Hwende say they would boycott
by-elections if they are not allowed to use the MDC Alliance name? The MDC
Alliance name is already gone when are you going to get that into your thick
skull iwe Hwende mbwende. Why are you crying over spilt water? Yadeuka yadeuka
baba move on kkkk. Do you honestly think that Zanu PF gives a damn if you
boycott elections? This is why Mwonzora is there. Mwonzora will participate in
the by-elections using the MDC Alliance name whether you like it or not. So
boycotting elections is the worst case of buffoonery and lunacy at the highest
order. Wake up iwe Hwende and smell what you are shoving. Mapombi is very
disappointed with you. You should be fired just like Matemadanda. You don't
give up, this is war. There are a lot of opposition parties in Zimbabwe in case
you didn't know. Who said elections would not be held because Chamisa aramba.
The coming in of Mwonzora is a game changer in our politics and we don't need
useless people like Hwende to make such reckless comments. If that's Chamisa's
position then he must be foolish and must get his dose of the Chinese vaccine
maybe it would give him clarity on this issue.
By the
way, Mapombi received his Covid-19 jab and I want to thank my connections in
Zanu PF for abusing their powers and make me get a dose pamafrontline workers
ipapo kkkkk. Kana usina wekuziva haulumi. To be honest I think vaccination is a
matter of national security for every country and there should be no room for
negotiations or voluntarism. People don't trust Zanu PF or anything associated
with it that is why voluntary vaccination will never work. It will all come
down to politics. If Mapombi got vaccinated and is still alive why not you.
Ngenyi uchiramba ngenyi. Command vaccination is the only way to go otherwise we
will have stock piles of vaccines which nobody wants. Zanu PF inogona
zvekumanikidza vanhu izvi so why not do it now. At least this time it would be for
a noble cause. If you force people you just have to make sure that there are
options. We have to vaccinate everyone if we are to beat Covid-19 and through
command vaccination programme we will get there. Izvi zvana head immunity
ndezvekupenga. Munhu wese ngaabaiwe zvipere. Kusiri kufa ndekupi. I heard the
deputy minister of Finance saying Zimbabwe has enough money for Covid-19
vaccines so please make sure you buy enough for everyone. Make sure you buy
different vaccines so that people would have a choice on which jab to take. Dear
Zimbabweans, please let us put politics aside and focus on the enemy at hand.
Covid-19
is real and we have to find one another in this fight. Brother Nelson and
Emmerson please let us reach out to one another and encourage our people to get
vaccinated. We will fight each other again but the priority at the moment is to
save our people. A lot of people do not want to get vaccinated because their
choices are not rationally informed but are politically
motivated. Zanu PF members are eager to get vaccinated because they saw their
leader getting vaccinated. Brother Nelson the ball is now in your court and I
plead with you to do the right thing. Ngenyi uchiramba kubaiwa iwe Nelson
ngenyi. Please tell your people that there is no harm in getting vaccinated.
After all, these are the voters of tomorrow so we have to keep them alive and
safe. I have said enough regai zvangu ndinokanga maputi angu for lunch. Mboko
imboko.