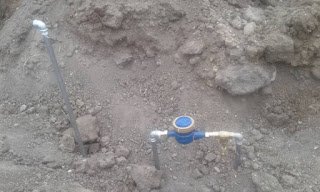 Pre-paid water meter
Moses Ziyambi
Some
140 residents who bought infill stands in Mucheke D Extension and were made to
pay US400 each for pre-paid water meter installations are demanding refunds
after Masvingo City Council failed to deliver, TellZim can report.
The
aggrieved residents, who paid the money between 2017 and 2018, have since
written to the local authority demanding that they be refunded because council installed
regular water meters instead of the much more expensive prepaid ones that they
paid for.
After
representatives of the disgruntled residents frequented council offices to get
redress, the local authority communicated that government's decision to abandon
its maligned belief in the false equivalence in the strength of the US and RTGS
dollars had affected the project.
"Our
provisional offer indicated that you would be connected to a prepaid water
meter which had its cost factored into the cost of the stand. However,
developments on the national monetary and fiscal policies resulted in
significant increases in the cost of servicing the strands which Council felt
could not be passed onto the beneficiaries.
"Furthermore,
our plan to rollout the prepaid water metering scheme throughout the city was
equally affected and was abandoned at tendering stage due to high costs and
other technical considerations.
"Resultantly,
it became uneconomic and unaffordable for council to install prepaid water
meters on new stands without requisite software and hardware support. This led
to a decision to install postpaid meters on all stands including yours,"
council wrote to one of the stands owners in February.
The
despondent residents, however, have demanded that council must prove the cost
at which they purchased the installed postpaid water meters as they suspect
that they were overcharged.
"Firstly,
we would like to get a copy from your office showing the price of the postpaid
meter. As far as we are concerned, your office is not being sincere to the
people of Mucheke D infills. We are so sure that those meter are not worthy
US$50. There is no transparency concerning those meters. It's really disturbing
for us to get something worthy US$40 or less whilst we paid US$400," the affected
residents wrote to council.
The
letter was signed by many people including Daniel Bviuure Conrad Murambiwa,
Tavengwa Maswera.
Though
council is yet to respond, the residents have vowed to escalate their fight
until what they consider to be a reap-off is reversed.