Masvingo City council has signed a $73 million deal with a Chinese company, CAMC Engineering Company Ltd, that is aimed at upgrading waste and water treatment infrastructure and facilitate effective service delivery in the city.
The Memorandum of Understanding (MoU) was signed in Harare during the state visit of the Chinese President Xi Jinpin to Zimbabwe.
Speaking at the signing ceremony, Minister of State for Masvingo Provincial Affairs Shuvai Mahofa said that the deal will go a long way in making Masvingo a better city.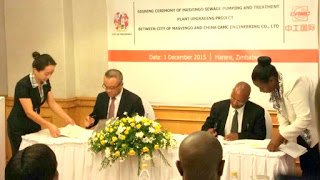 Masvingo Town Clerk (right) during the signing ceremony in Harare
"The implementation of this agreement will result in a bigger and better Masvingo. This occasion is historic for the signing ceremony has taken place during the state visit by the Chinese President Xi Jinpin to Zimbabwe.
"I am here representing the government of Zimbabwe to support the partnership between Masvingo City Council and our friends from China. This is a Public Private Partnership (PPP) which is in line with our Zimbabwe government policy," said Mahofa.
She added that the signing of the deal shows that President Mugabe's visit to China in 2013 was bearing fruits.
"President Mugabe was in China in 2013 looking for funding for infrastructure projects. We are happy that Masvingo City Council is heeding the Look East Policy," she added.
Masvingo City mayor Hubert Fidze said the signing of this agreement will go a long way in making sure that service provision is improved in the city.
"I want to thank CAMC Engineering for attaching great value and importance to these projects. The level of acceptance and appreciation shows that the implementation of these projects will be a success. The success of these projects will lead to good service delivery and attract investment for the city," said Fidze.
The signing of the agreement follows the signing of a similar agreement between City of Masvingo and CAMC Engineering in September this year for the upgrading of the city's water supply and sewage system.