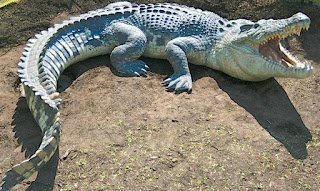 Cephas Shava in Mwenezi
MWENEZI – A fisherman suffered a rapacious crocodile attack which left him battling for his life with his right leg broken and nearly torn off his body while installing his fishing nets in Pambe Dam recently.
Munei Hofisi was savaged by the sneaky reptile in broad day light while hard at work on his nets.
This incident occurred in Munhundugwe village, Chief Mawarire in Mwenezi district.
Eye witnesses said the victim, who was in the company of his young brother, was attacked from behind on the right leg resulting in him falling in the water while the crocodile was still grasping him tightly.
After a fierce fight and with the help of fellow fishermen, Hofisi was rescued from the jaws of the crocodile but not before the avaricious reptile had wrought immense harm on him.
"Hofisi's leg was in a pathetic state. It seems the crocodile managed to get away with a piece of flesh from the guy's leg. The leg was like beef chopped by a Machete," said an eyewitness who saw the grisly scene.
Hofisi was rushed to Matibi Mission Hospital where he is currently receiving treatment. As of last week, his wounds were said to be still fresh and in need further medical attention.news