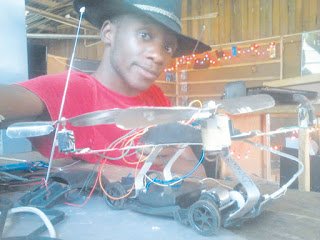 Donald Mazwati Mlambo with one of his innovations

Stephen Ephraem                          
When a Chipinge father was delegating his young son menial duties in the family's electronic workshop a few years ago, little did he know that the child was to rock the world with his inventions.
The son is none other than Donald Mazwati Mlambo.
The 25-year-old Mlambo is a Physics, Chemistry and Biology product of Gaza High School in Chipinge and Winhood College in Ruwa. Donald started by inventing an amplifier in 2015 which, however, took him two years to complete due to spare parts challenges.
"I started inventing drones after my successful venture into amplifiers. The initial drawback in making drones was that of heavy parts which could not stay long in the air. I used motors I salvaged from old DVDs and printers. I realised that drones require appropriate parts," said Mlambo.
He said he was thankful to the ZimDigital team that financed him with circuit boards, etching pens and chemicals for amplifiers.
He also said he had a great vision of starting his own brand of electronic products and making synergies with established brands.
"The vision is not all about myself but about Africans. When I look at Africa, our technology is still very poor so I hope to change the way we perceive African-made technology. The entry point is that we unite together and partner with people from other countries on the continent.
"We need to make simple but strong drones that are exclusive to Africa, especially Zimbabwe. These may be used by power companies, the police for monitoring risky areas and emergencies. Local authorities may use such for surveys and agricultural entities may use such drones for spraying purposes," Mlambo said.
He thinks young people in Zimbabwe have a good chance of making it in the electronic products manufacturing and assembling sector.
"The making of exclusive drones for Africa will build African economies and teach young people to be more innovative in technology. By the end of day, the electronic engineering industry will be able to sustain itself and later on export to other countries," Mlambo said.business