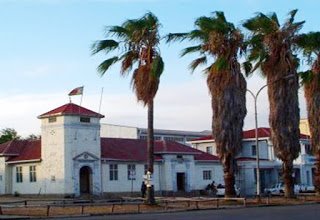 …US$20 million stands between residents and water
Upenyu
Chaota
Despite being close to the biggest inland dams in the
country with huge volumes of water, Masvingo city will see a dry festive season
as the water situation remains dire.
Crippling power shortages at Bushmead Water Works and
dilapidated water infrastructure has seen many residential areas like Runyararo
West going for months without tap water.
As part of mitigation measures, Masvingo City Council
has come up with a desperate water rationing schedule which has proven to be
difficult to adhere to owing to power shortages.
Some residents feel that by introducing the water
rationing schedule, council has attended to the symptoms of the problem and
ignored the root cause.
Council blames the water crisis mainly on load
shedding by the Zimbabwe Electricity Supply Authority (Zesa). As a result of
the power shortages, Masvingo is largely dry in the day and dark in the night.
The city has degenerated into a village where women
fetch water from boreholes, fetch firewood for cooking and do laundry on river
banks.
Residents are likely to experience the worst Christmas
in history, as they will be without water and electricity, thereby making it a
gloomy festive season.
Open defecation is on the rise as people often do not
have water to flush their toilets.
Council says the only way out of this predicament is
embarking on a mega project of Water Augmentation Phase 2.
The city gets water from Lake Mutirikwi, which is one
of the biggest water bodies in the country and at no level has the lake run out
of water but the challenge remains pumping and purification.
Much of the water in the lack has traditionally gone
to the low veld where it is used to irrigate sugarcane but the completion of Tugwi-Mukosi
Dam means more water remains in Lake Mutirikwi yet less of it is getting to
residents.
City of Masvingo mayor Collen Maboke told TellZim News
that council applied for borrowing powers to the tune of US$20 million to
implement the Water Augmentation Phase 2 project.
According to Maboke, this is the only permanent
solution to the city's water problems but the audacious project will not happen
overnight, residents have to endure much longer.
"We have very expensive solutions to the crisis at
hand. We need US$20 million to embark on Water Augmentation Phase 2 project.
The council does not have this kind of money and we seek to borrow it.
"This is the only solution and we hope we will be
allowed to borrow the money so that we kick start the project. Once completed,
Masvingo will be in a position to pump and supply adequate water to its
residents.
"For the time being, we have come up with a water
rationing schedule which we hope will help alleviate the biting water
challenges. Residents should know that their council is very concerned about
this crisis," said Maboke.
He said the council is proposing to install solar at
the Bushmead Water Works as Zesa has refused to dedicate a powerline for the
city's source of water.
"We know there is no solution that comes without
addressing power challenges so we are working on installing solar at our water
works. We had considered a generator but it is too expensive and unsustainable.
"Solar is more permanent hence we are going for that.
Again, it is not going to happen overnight. It is a process but we will make
sure it happens as fast as possible," said Maboke.
Masvingo United Residents and Ratepayers Alliance
(Murra) said that the city council and Zesa have failed residents and a dry and
dark Christmas awaits.
"When we talk of failure, Masvingo is a perfect case
study. The city council has failed in its mandate to supply water to residents.
They blame Zesa for the crisis but they should have seen it coming and invested
in alternative sources of energy long back.
"Now we will play Christmas without water. How is that
for Christmas? This is the best recipe for disaster and I wonder why some
people are still in offices instead of resigning because they have failed.
"We need new ideas at the council to solve this crisis
because we do not want their water rationing. All we want is a service we are
paying for. What will happen if our people get sick and there are no doctors at
the hospitals?
"The council has to make sure that water is readily
available this festive season because there are a lot of people who will be
visiting the city. It puts us in a bad space," said Murra spokesperson Godfrey
Mtimba.