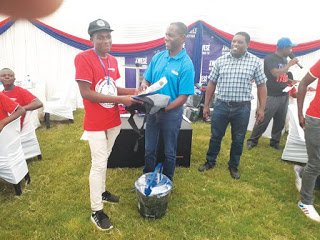 Parshon Muranganwa (in blue) hands over a prize to a brand ambassador


Nashe Mahachi


MUTARE – Econet Wireless Zimbabwe last Saturday hosted an event to reward its top-performing brand ambassadors in Manicaland province.
The colourful function took place at Hillside Golf Club.
The country's largest telecommunications and technology company honoured its brand ambassadors from the province's seven districts; Makoni, Mutare, Mutasa, Chimanimani, Chipinge, Nyanga and Buhera.
Over 300 brand ambassadors were rewarded for their hard work. Before the award ceremony, the brand ambassadors had a brief training with area managers in various products and services. They were also trained in grooming and etiquette.
Addressing the gathering, Econet Manicaland general manager, Parshon Muranganwa praised the brand ambassadors for their hard work and for representing the company well to customesr in their districts and the communities they serve.
"Today we want to take time to celebrate and recognize the great work that you, our brand ambassadors, have done in the urban and peri-urban centres, in the growth points, the farms and villages in this province.
"We want our brand ambassadors to be synchronised when they go to the market selling various products. We recognised outstanding performances as Econet.
"As Econet, we intentionally want to create employment by encouraging entrepreneurs who can go out there and employ others. Some of our products include Iflax, Maisha,KwesePlay, Yomix, sim cards, EcoCash and Vaya," said Muranganwa.
Econet recruits and trains its brand ambassadors and deploys them back into the market to promote and sell the company's brands and products in their communities and localities.
Some of the brand ambassadors thanked Econet and said the awards would motivate them to work harder and do even better in the future.
All the ambassadors walked away with food hampers.