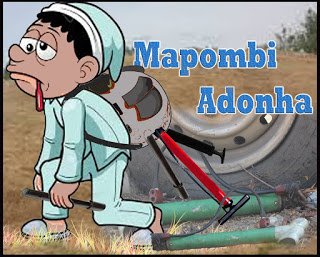 Mapombi is sure by now Malaba and colleagues now have the V11 forms they were asking as primary evidence – the V11 forms are there for everyone to see. Prices of basic commodities are increasing every day; supermarkets shelves are almost getting empty; rampant fuel shortage and ever increasing black market forex rates. Ndozvamaidaka izvi nhai? And if you ask a not so intelligent minister like Jorum Gumbo he will continue telling you that the fuel shortages are artificial. Gumbo should be forgiven for he not really understand what it means when saying the shortage is artificial – anotodawo kubatsirwa uyu, never mind that he is a Dr kkkkkk PhD chaiyo.
They have rigged the elections; they won the elections through the courts; we hope the courts will help them to win this case against the economy and I am sure Malaba will deliver a favourable judgment soon. Kkkkkkk the late Tsvangirai was very clear that you can rig elections but not the economy. This is where we are now and even those who were supporting ED are now thinking otherwise.
Kkkkkkk but Mapombi akambozvitaura kuti kufarira kupinda kwaED kufarira n'anga neinondobata amai chionai manje Murambwi venyu zvava kutiitira. From nepotism to tribalism; it's either you are from Gutu if you are in Mavsingo province for one to get a ministerial post or you are from Midlands especially Mberengwa kuti zvikufambire. Or at least you should be a Moyo in order to get a better post. That is ED for you!
Mapombi will not hestate to say the truth; ED and uncle Bob are like identical twins maitiro avo akangofanana. Just last week we saw use of brutal force on ZCTU leadership who were planning to exercise their constutitional right to demonstrate against the illegal 2cents tax which was imposed by Prof Mthuli. This is exactly what uncle Bob used to do kungorova nekuurayisa vanhu mahara. Mapombi therefore, will not care much about this shameless nepotism by ED because he inherited it from uncle Bob and as such he should be forgiven for that.
It's now time to be honest with each other guys; we cannot continue sugarcoating the current economic crisis and shortage of basic essentials as artificial. The challenge is that the majority of the comrades appointed are not so intelligent and they are clueless to say the least. Some are said to be technocrats but they leave a lot to be desired and one may end up asking are these really technocrats? At least two or three are genuine technocrats – Chitando, Murwira kwete ana Moyo vehealth avo vakaiswa because of their surname inonzi Moyo.
For Mthuli please hold on a bit; Mapombi don't really understand this Professor Mthuli guy; he is so detached from the truth zvinotobhowa. Mapombi is very sure Mthuli is a professor of incompetence – the guy is a complete failure judging by the current prevailing economic crisis and his somewhat pro-elite policies he imposed on poor Zimbabweans. Vanoda kuti isu varombo tirwadziwe asi ivo they allocate each other thousands of fuel coupon and top of the range vehicles and after that they tell us kuti we have to feel the pain kuti zvinhu zvinake. We will say no, in fact povho yakatojamuka kudhara and the results are there for everyone to see. Ndoma V11 forms and primary evidence yamaichemeraka iyi – the evidence is there that these comrades have failed to solve the economy.
Mthuli is responsible for all these shortages of fuel and basic goods in the country. And if you ask Gumbo he will tell us the shortage is artificial kkkkkkkkk baba vaya aka vanoda kubatsirwa chaiko! Wake up and smell the coffee minister the shortage is real.
Anyway, Mapombi will not waste time talking of Gumbo who is not new to controversy – im sure he retains the ministerial post simply because he hails from Mberengwa otherwise zvingadaro akaenda pakaenda vamwe uyu.
So Mthuli saw it fit to fundraise money from the suffering people so that they can buy their top of the range vehicles. They don't want to trim down their benefits, not at all, but they want suffering citizens to rather pay 2cents per dollar so that they can maintain their flamboyant lifestyles as ministers.
But I like Zimbabweans, they do not have power but they have a wonderful way of responding to those who think they have power to impose things on them – I am sure by now Mthuli has learnt something – the hard way of course. We shall see; handei tione kuti ndiyani achakurirwa but what I know is the economy is kneeling down and soon muchapa kutenda henyu mamboti madii. For some of us kana hanya because nhamo taijaira – seni Mapombi nhamo ndakaidzidziswa neZanu PF so im very much grateful. At least there is one thing this Zanu government accepted at last, that is, Bond Note is equivalent to US$. Kkkkkkkkk they tried kuti zvakaenzana but vazozvionera manje kuti mombe nedhongi hazvina kufanana.
Mapombi wonder what kind of a learned minister Mthuli is? A minister borrowing money everywhere simply for importing fuel, soyabeans, wheat, electricity and other raw materials apa production dololololo hahahahaha hakuna munhu akadzidza anoita zvakadai. Kukanga mbeu zvinoitawo here vakomana. We want production. Period!
Mapombi noticed the black market rates are increasing and now US$100 is attracting over $400 Bond Notes and Zanu PF will tell you that things will normalize kkkkkkk musationa senge marema varume imi. In fact if it is Nick Mangwana he will tell the nation that we are above the situation kkkkkkk wotoshaya kuti baba ava vanorarama munyika ino here or vachiri kuUK. We are not above the situation Cde Nick; the situation is way below us – underneath. That's the problem of employing people on the basis that they write propaganda columns vachitukirira Chamisa – we want people with relevant qualifications, please.
Anyway, it's almost lunch time let me go ndindokanga zvangu maputi angu for lunch ndizvidyire munyika yavaED iyi. At least maputi will be the last thing kushaikwa because chibage hobho munyika and that is the reason hupfu husiri kukwira. But Mphoko must have solutions to all these problems – we should take him to Rainbow Towers in Harare ambogara zvake ipapo nefamily achibatsira nyika with solutions to solve prevailing economic crisis. Mboko imboko!