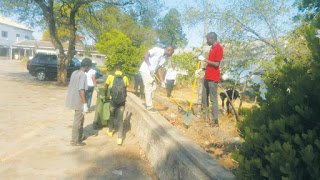 Dozens of MSU students participated in the cleanup exercise

Darlington Kanyongo
ZVISHAVANE – Some students at the local campus of the Midlands State University (MSU) on October 17 cleaned up the environs of Shabani Mine Hospital as a way of communicating their commitment to environmental health.
Speaking during the exercise, Margaret Nsiyaludzu, a nurse at the hospital, praised the cleanup campaign, saying it sent an important message that clean surroundings were a responsibility of all citizens.
"I am pleased with what is being done here because it shows that the generation of these students is a better generation, a generation which will help to build a better Zimbabwe.
"Many patients were wondering what was happening outside and I informed them that there were MSU students cleaning around the premises. They too were pleased with what the students are doing," she said.
Mandava and Makwasha warden, who is also deputy director of sports and recreation, Dr Kaves Zvapano said the event was just the beginning of even greater things that the university planned to do for the hospital.
"This is just the beginning of greater things to come. We came here today on zero budget, but next time we are going to do something even greater," he said.
Davice Chiware, a student at MSU, thanked his colleagues for mobilising themselves for an event which she said had brought a positive change to the environment. She also called for a bigger response in all future charitable activities, saying the university had a critical role to play in the wellbeing of the town.