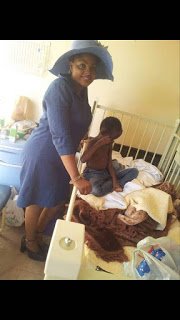 Mapuvire attending one of the children she cares for
Shingirai Vambe
HARARE – A committed social worker in the capital is working hard
to take good care and treat children suffering from a rare skin disease called
Xeroderma pigmentosum which afflicts mainly those from poorer social
backgrounds.
Xeroderma pigmentosum is a rare
skin disease that has no known cure, and individuals who suffer from it need
support and treatment.
Pauline Mapuvire has formed
Xeroderma Pigmentosum (XP) organisation to support children with the disease which
is also described as a form of skin cancer.
She said people suffering from XP
must not be exposed to direct sunlight, UV light and must use sunscreen lotions.
For the past two years, she has
been working for the welfare of disadvantaged children suffering from the
disease so that they can feel loved and cared for.
"I started with nine children
whom I took from very poor backgrounds where no one could even give them the
basics of what they needed. I am happy that there are now 27 children that I am
attending to and I hope I will be able to help even more.
"Usually, people do not want to
associate with such people or families as they classify XP as a curse. I have however
made it a point that I should give my time and whatever little resources I can
get to take good care of them despite receiving no support from authorities or
other organisations.
"I have tried to do a fundraising
in the form of a modeling show (Miss Legacy Zimbabwe) in September 2017 but we
did not manage to get enough funds," said Mapuvire.
She said it was critical that
those who see the compelling importance of the job at hand to come forward and
lend a hand for the benefit of sufferers.
"The children need shelter and
the type of clothing that most of them require costs 3 000 British pounds,
money which is hard to raise in our economy," she said.loca