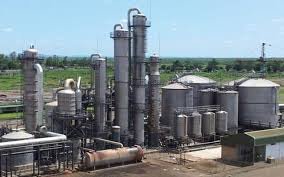 …
Committee accuses national oil company of hiding ethanol interests
CHIREDZI
– The government is not
benefiting from its ostensible partnership with Macdon Investments' Chisumbanje
Ethanol Plant, the Parliamentary Portfolio Committee on Energy and Power
Development has charged.
The
thematic committee was recently in the Lowveld to find out why ethanol produced
locally is more expensive than that imported from Brazil.
The
committee is chaired by MDC Member of Parliament (MP) for Binga South, Joel
Gabuza.
Triangle
Limited and Chisumbanje Ethanol Plant are the sole producers of ethanol in
Zimbabwe.
During
the tour, Gabuza told TellZim News that the arrangement between government and
the investor was not benefitting the country but a few well-connected political
elites.
"I
don't think we are getting anything from Green Fuel. I think it's only one or
two people in government. And I have never seen any accounts which show how
much we are gaining as government from our partnership with Billy. It's just a
deal to help each other to make money," said Gabuza.
Billy
Rautenbach is the controversial proprietor of Macdon Investments which is in a
controversial joint venture with government in the Green Fuel project.
Gabuza
also said he doubted the National Oil Infrastructure Company (Noic)'s credibility
after Triangle Limited made what he said were startling revelations that the
company had a stake in the ethanol business.
He
claimed that Noic had never revealed its interests in the ethanol business.
"We are going to sit down as a committee and
analyse what we got during our tour. We want to know what exactly is going on.
We have been with Noic and they never told us they are in partnership with
Triangle in ethanol production. If the partnership is lawful, there is no
problem but whether or not that partnership raises corporate governance issues
is another thing," said Gabuza.
Information
in the public domain is that Green Fuel is a joint venture between government's
Agricultural Development Authority (Arda) and Macdon Investments under the
Indigenisation and Economic Empowerment Act.
Government
ostensibly holds 51 percent stake while a local community share ownership scheme
owns 10 percent, with the remainder 39 percent in shares being held by
Rautenbach's company.
Ethanol
pricing is currently been regulated by government and pegged at $5.10/ per
litre.