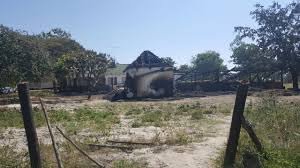 Kennedy Murwira
Villagers in the Makonde area in Gutu whose homes were razed to the ground by a vengeful man who lost his wife to his uncle have started rebuilding their homes barely two weeks after they were torched.
One victim of the arson attack, Thomas Makanda said he did not know why his home was burnt because he had nothing to do with the whole issue.
Makanda lost many belongings as he had moved out of his asbestos-roofed house into a thatched hut at the homestead to create room for his two sons who had just got married.
Chief Gutu's Secretary, Kennedy Mupambavatyi, said he will assist the villagers to receive compensation from arsonist fugitive Andrew Muchena.
Muchena, originally from Muchena Village near Chamisa School but whose parents relocated to Makonde, left his wife at home after being accused of stealing several head of cattle. 
Muchena is believed to have fled to South Africa where he stayed for more than seven years but other sources say he never left the country but was simply hiding in different places.
Early this month Muchena came back home only to find that his wife had eloped with his uncle who had sired two children with her and was expecting a third one. 
The uncle was now working at Mubayiwa homestead in Makanda Village next to Muchena's original home. 
Angry, Muchena followed his uncle to his workplace where the two had eloped.
Muchena immediately to the Mubayiwa homestead on fire before disappearing and villagers said they had had suspicions that Muchena's uncle was related to Sophia, the woman he was staying with as his wife.
The following day a meeting of all the villagers was held to decide on the way forward and what action to take against Muchena's uncle. 
Sophia, who was present at the meeting and all subsequent meetings, is believed to have tipped her new husband about the proceedings. 
This reportedly angered Muchena even more, and he burnt houses belonging to Makanda, Anna Runzonza Chirumhanzu, Letwin Mandovi and Brighton Chikede in revenge for plotting against him.
Muchena also later burnt the thorn fence around two of Makanda's neighbours' homesteads but police failed to apprehend him as he struck mostly at night.
Chirumhanzu's hut was however lit around mid-morning when distressed village elders had gone to attend a meeting to discuss what was happening in the village. 
Muchena injured his former wife with an axe but could not locate his uncle who had already fled to Mpandawana where he now lives with Sophia in a low density residential area where they have found work.
Muchena's victims have vowed to approach Chief Gutu's Court to ask to be compensated from Muchena's reported 20 head of cattle in Makonde.news
—
Tel :         +263 39 262 401 
He who said it can not be done must not disturb the one doing it!