Precila Takabvirakare
Gutu Rural District Council (RDC) commissioned the recently completed Muchekayaora Clinic and two staff houses easing travelling distance people were travelling to access health services.
The Clinic which is in ward 5, Gutu East Constituency under Chief Munyikwa was officially opened on July 11 by Director of Finance Administration and Human Resources in the Office of the President and Cabinet (OPC) Jambo Nyamhuri.
The clinic was built using Constituency Development Funds (CDF) and Devolution Funds from Gutu RDC in order to reduce longer traveling distances to the clinics.
Speaking at the commissioning, Gutu RDC Chief Executive Officer Alexander Mutembwa said that they decided to construct the clinic after calls by people in the area through the outgoing Member of Parliament Berita Chikwama.
"We decided to construct this clinic here following a request that was made by honourable Chikwama. She came to our office asking for a clinic in her Constituency saying we are only concentrating with other areas neglecting remote areas,"
"We then decided to construct the clinic so that we improve our health system and reduce the distance that people were travelling to the nearest health facility which is around 25 kilometers so that people have easy access of health services," Said Mutembwa.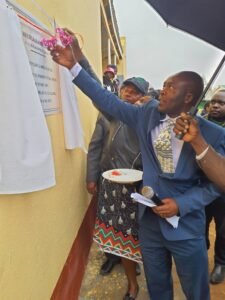 He said besides Muchekayaora Clinic, council was working on four other clinics and all were above eighty percent complete.
"In Gutu South there is Makwirivindi clinic which is almost complete and needs paint for painting. Two staff houses were completed, fencing and water is there. In Gutu North there is Makumbe clinic which is complete with two staff houses complete. We are left with water provision and fencing,"
"In Gutu West, there is Ndahwi Clinic which is also complete, one staff house is almost complete, water and fencing already in place and these will add to the 11 existing clinics," said Mutembwa.
On his part Nyamhuri said what Gutu RDC and the community had done was clear evidence that they were working towards achieving vision 2030.
"I am very happy with the good work that you have done here, it shows that you are working towards achieving vision 2030. "Nyika inovakwa nevene vayo", and you have supported this by working hand in hand with the community. You showed unity by working well together and I wish if that would continue in future projects. This clinic is very important it will improve our health sector as people will no longer need to travel longer distances to the health center," said Nyamhuri.
Chief Munyikwa born Kirion Rashamira thanked the support they got from the government and Gutu RDC in making such a huge development in their community as people will be getting health services close to their homes.
"Appreciate the support we got from the government through the Gutu RDC, this clinic means a lot to us as a community. I encourage the council to keep on supporting government programmes like you did here," said Munyikwa.
Gutu RDC also constructed a staff house at Gwira secondary school which is already being used, bought a tipper truck and a grader using devolution funds.