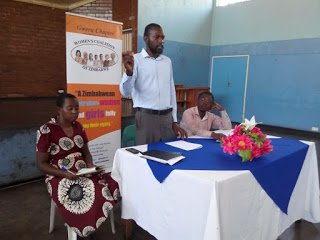 …water rationing to persist due to
power cuts
Tinaani
Nyabereka
GWERU
– The local chapter of the Woman Coalition of Zimbabwe (WCoZ)
last week engaged Gweru City Council on a service delivery feedback meeting
focusing on the water rationing exercise currently being carried out by council.
WCoZ Gweru chapter coordinator,
Vimbai Nhutsve said such engagements were important for holding council
accountable in matters of service delivery.
"It is good for council to come to
us and clarify what we don't understand because we pay for services as
residents. The issue of inadequate water remains a challenge in our communities
and by such engagements, we become knowledgeable about where our city is
going," said Nhutsve.
Tatenda Machingauta, a Ward 6
resident, complained that a lot of rubbish was being dumped at the boreholes
and other water sources.
"A lot of dirt is being dumped at
boreholes and wells. I fear that will lead to further contamination of our
underground. People are throwing used sanitary pads, plastics all over and that
is not healthy," said Machingauta.
Gweru City Council Engineering Services
director, Robson Manatsa said residents had a duty to ensure a clean
environment and must protect public property against vandalism.
"As residents, we are obliged to
keep safe council property because it is our property as well. I urge you to do
away with vandalism because once council property is vandalised, we come back
to you for the money to repair that damages
"I heard streets lights are being
vandalised in some areas and people are cutting away the cables. The same goes
for our water infrastructure; if you come across acts of vandalism and theft of
that property, you must take action and report," said Manatsa.
He said the water rationing schedule
introduced by council was a response to the crippling power cuts at the supply
dam.
"Some areas are not getting water
because we are experiencing massive power cuts at Gwenhoro. Some of the power
cuts are unexpected so it affects the rationing programme. We therefore urge
residents to use water sparingly and avoid vandalism of infrastructure,' said
Manatsa.