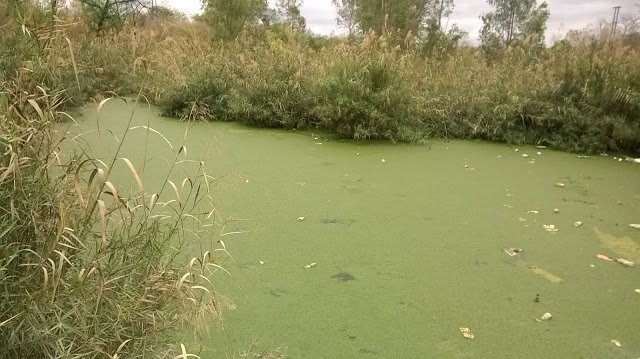 The heavily-polluted Mucheke River
Masvingo City is sitting on health ticking time bomb with raw
sewer spilling into Mucheke River on a daily basis from the sewage works
adjacent to Rujeko suburb whenever there is electrical load shedding.
Mucheke River feeds into Lake Mutirikwi, which is the main
water source for Masvingo Urban, and the quality of raw water determines the
amount of water treatment chemicals required.
In a recent full council meeting, Ward 7 Councillor Richard
Musekiwa told council that they should come up with a plan to alleviate the
sewer problem before it turns into a health disaster for the city.
"We are polluting Mucheke River with raw sewer because
every time there is electrical load shedding, raw sewer spills outside the
treatment plant and flows into the river.
"Some residents from Rujeko approached me and appealed
to council to do something about the thick stench of the sewer that flows in
the open and eventually ends up in Mucheke River, adjacent to their
homes," Musekiwa said.
A few years ago Masvingo City Council was once penalized by
the Environmental Management Agency (EMA) for contaminating Shakashe River,
another tribute to Lake Mutirikwi with raw sewer and they paid over US$8000 to
the regulatory body.
The river, which is visibly choking from an invasive
weed—water hyacinth has also suffered extensively from siltation, and EMA once
attributed raw sewer as the direct cause of water hyacinth growth in the river.
There is also growing concern about the number of vandalism
cases on the manholes along the sewer line, with a number of them being blocked
with rocks and bags of sand by streambank cultivators to water their plots.
In an interview, Acting Town Clerk Edward said thieves steal
the lids to the drain waste vent system, exposing the manholes to further
vandalism.
"We have a problem of people who steal iron lids to the manholes,
smelt them and mold them into tools they can resell. A lot of them now no
longer have lids and it is a real challenge," Mukaratirwa said.
Most of the raw sewer ends up in either Mucheke or Shakashe
rivers, further deteriorating the quality of raw water that goes into Lake
Mutirikwi.
Ward 10 Councilor Sengerayi Manyanga in the same full council
meeting said the city risks finding itself in Harare's situation of failing to
treat water if no action is taken because of the increase in cost of water
treatment chemicals.
"I foresee a situation where we will wake up one day
without any water treatment chemicals because the unavailability of foreign
currency worsens our situation," Manyanga said.