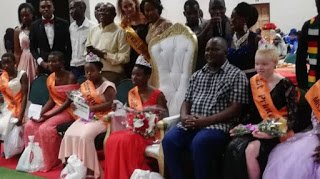 A
pupil from Henry Murray School was last recently crowned the 2019 Masvingo
Province's Miss Disability at the end of competitions held on November 16,
2019.
The
highest positions, Miss Disability and first princess were taken by pupils from
two different Reformed Church of Zimbabwe (RCZ) schools namely Henry Murray and
Copota.
Surprise
Makanzire beat Fadzai Marape of Copota School and Dazzy Muzvidziwa of Ratidzo
Zimcare Trust who then emerged the first and second princesses respectively.
RCZ
educational secretary, Shava said the church was honoured to have two pupils
from their schools as the first and second winners of the contest.
He
also expressed his appreciation to the funders of the programme.
"We
are very proud of the pupils who became winners of the Masvingo Miss Disability
contest especially those from RCZ schools. We also would like to show gratitude
to the people whom made the competitions possible through financial support,"
said Shava.
The
programme was founded by Vimbai Chasa with the aim of making it a tool and a
platform for fighting stigma and discrimination which people with disabilities
face in communities.
One
of the funders was Solomon Matsa who said he believed that such programmes were
vital to break negative perceptions about people with disabilities.