A Zimbabwean hip-hop group 'The Monkey Nuts' which is based in UK took social media by surprise after launching their debut album Boom Bap Idiophonics on the 1st of May, at the just ended Harare International Festival of Arts (HIFA).
The hip-hop sensation stormed social media as they got 400 likes on Facebook on the day of the album release and increased to over 2000 views and 4000 followers on You Tube and Twitter respectively.
The trio comprising of Joshua Chiundiza, Tinotenda Tagwirei and Impi Maph have a record deal with a UK record label Barely Being Even (BBE), released their album that features French producer Lionel Corsini (DJ Oil) and mbira songstress Hope Masike.
Born and raised in the capital, the group has been on the local hip-hop scene since 2011 and have been trotting towards the international arena.
Boom Bap Idiophonics their album was produced by Sam Monro (Comrade Fatso)one of Zimbabwe's leading poets and stand-up comedian and Tongai Makawa (Outspoken) also a poet and emcee.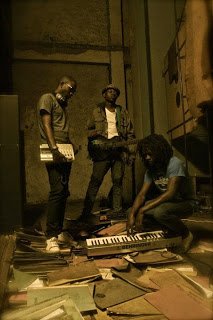 Speaking at HIFA, one of the group members Chiundiza acknowledged that "ironically Boom Bap Idiophonics was created when The Monkey Nuts, DJ Oil and Hope Masike met at HIFA 2013"
Chiundiza also added that "they were preparing live shows to be held in Zimbabwe, South Africa and the UK later this year"
The album is available for pre-order worldwide and the purchase can be done online via iTunes making use of social media to capture both local and international audiences.
Social media has been helpful towards the popularity of The Monkey Nuts since their formation in 2011 and the release of their debut album has led them to go viral.
Zimbabwean hip-hop has been fading away as the dancehall genre has been catching the attention of many but artists like Outspoken,Shingirirayi, ExQ, Stunner and The Monkey Nuts have been holding on firmly.Entertainment