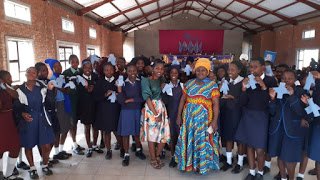 MWENEZI –
As
part of efforts to improve the conditions of girls from disadvantaged
communities, charity organisation Ignite Afrique recently organised a sanitary
pads-making course for some Mwenezi school girls and their teachers.
The
training was held at Lundi Christian High School with many girls and teachers
from different schools across Mwenezi district acquiring knowledge on how to
tailor-make their own sanitary pads using affordable material.
Ignite
Afrique director Charles Maregere told TellZim News the training was made
possible through the support of partners and patrons.
He
said he hoped the knowledge gained will help improve the welfare of the girl
child in rural areas who can hardly afford adequate supplies of disposable pads.
"Given
the current high prices of disposable sanitary pads, we have realised that many
girls were at risk of contracting infections during their periods since they
use unhygienic alternatives such as cow dung and rags.
"We
have realised that the training on making reusable sanitary pads is a sustainable
life skill that empowers girls. They will also use the skills gained to form
sanitary hygiene clubs in their respective schools. Making pads on their own
will help them make extra cash by selling the pads to others in their
communities," said Maregere.
Speaking
at the same occasion, Ignite Afrique patron Edith Mugehu, a molecular biologist,
urged communities to de-stigmatise menstruation and sanitary hygiene by
encouraging open talk on the subject.
"The
subject must not be taboo and girls must have the freedom to speak about it
freely. We have seen that the stigma has led some girls to manage their periods
using unhygienic methods where they risk infections," said Mugehu.
Participants
prised the programme and encouraged more outreaches of that nature, saying it
was high time girls are given knowledge on how to handle the natural
development of their bodies.
Girls
from such schools as Sacred Heart High, Masogwe, Machokoto, Hlezana, Budirirai,
Sagwari, Mwenezi Government High and Masogwe Primary School participated in the
event.