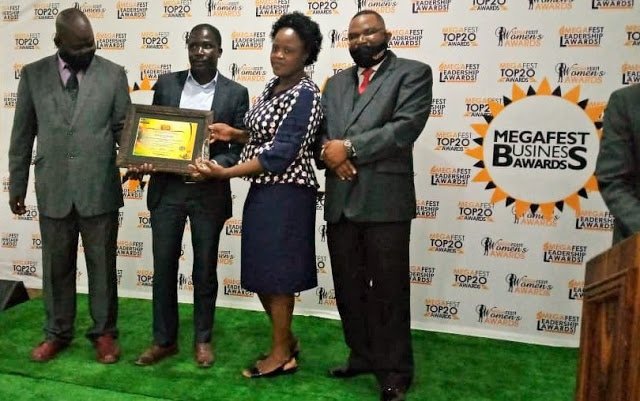 Moses Ziyambi
Junior Enterprises director Noah
Marima has been named Outstanding Business Personality of the Year 2020 Silver
(Masvingo Region), helping to cement his image as a young entrepreneur of
repute, TellZim can report.
The recognition came during the
Megafest Business Awards ceremony held at Great Zimbabwe Hotel on Friday, April
24, 2021.
Being head of a dynamic business
enterprise, the latest recognition comes in face of the Covid-19 pandemic which
has put many people out of business.
Through his dynamic enterprises,
Marima employs dozens of people at his driving school, haulage business, security
firm and microfinance enterprise.
Junior High School, which is
under construction in Rhodene close to the road to Harare, is the latest
addition to the growing Junior portfolio.
"I feel honoured that I have been
given this recognition which comes at a very difficult moment when we are all
struggling to survive the Covid-19 pandemic and the pain that comes with it.
Business has not been good especially last year and we had to improvise in many
ways just to stay afloat. This award therefore means a lot to me, my wife and
our team at the company," said Marima.
He said he will continue to work
hard to make a difference in his community particularly in Masvingo city where
he started his business and nurtured it to become a game changer in many
sectors.
"As a team, we are looking ahead
with optimism especially now that the Vehicle Inspectorate Department (VID) and,
other stakeholder institutions that make the greater part of our business possible,
have opened their doors with the relaxation of the lockdown.
"Going forward, there should no
longer be any excuse because we need to adjust to the new normal and make our
business responsive to the circumstances of the moment. Our focus should now be
on sustainability and growth," said Marima.
The annual Megafest Business
Awards, which have been running for 14 years, are hosted by Bulawayo-based
Megafest Holdings, with the objective of demonstrating appreciation for people
working diligently to make a difference in their business roles.