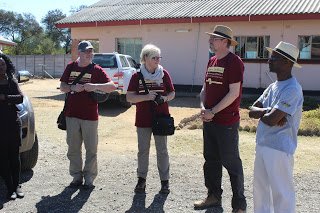 A group of volunteers resident in the German municipality of Kernen will
soon be in Masvingo for the umpteenth time to continue their charitable work
which has so far immensely benefited Masvingo in the fields of health,
entrepreneurship and service delivery.
Christian Fleischer, Astrid Fleischer, Klaus Kopp, Karin Kopp and other
people are expected in Masvingo on September 26 for a two-day visit.
They are expected to donate an ambulance and tour various project sites
to assess the kind of assistance they can provide.
Masvingo entered into a twinning agreement with Kernen some 28 years ago
leading to the birth of the Masvingo-Kernen Association.
Some of the benefits of the twinning process for Masvingo are the construction of Runyararo Clinic, infrastructural
upgrades at Mucheke Old People's Home and Alpha Cottages as well as the
creation of a revolving fund from which upcoming entrepreneurs accessed loans
through Zambuko Trust.
A whole block at Alpha Cottages children's home was
built courtesy of the Masvingo-Kernen friendship.
The association has also been paying school fees for
100 needy pupils at Bondolfi Primary School.
The Fleischers and Kopps, who have since distinguished
themselves in the association, are working class people who use their spare
time to motivate residents of Kernen to raise donations which they then channel
to Masvingo.
They last visited Masvingo in June 2016 and assessed
progress at various places they had been assisting to develop.