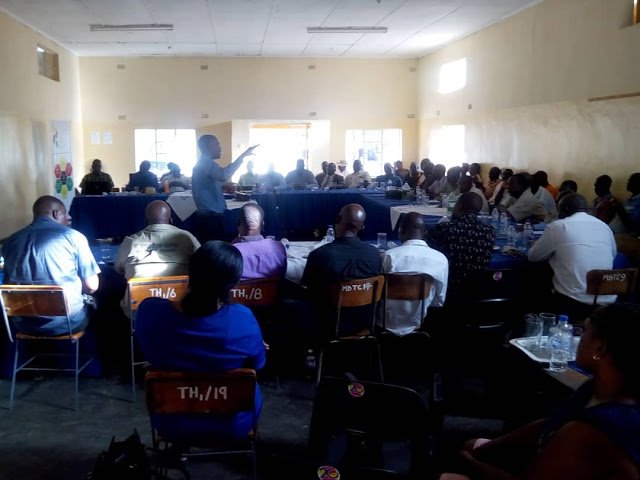 MWENEZI –
The
Local Authorities Capacity Enhancement Project (LACEP) recently facilitated a
two-day public finance management training workshop where the Mwenezi Rural
District Council (RDC) and its stakeholders got an opportunity to engage on
governance and service delivery improvement issues.
The
project is funded by the European Union (EU) to help enhance participatory
development and make the services of local authorities more inclusive,
gender-responsive and pro-poor.
The
event was held at the Mwenezi Development Training Centre (MDTC) premises,
Neshuro growth point on November 25 to 26.
It
was attended by Mwenezi RDC staff, all the councillors in the district, citizen's
representatives from various wards and representatives from all other
stakeholders.
LACEP
project coordinator, Philip Kundishora said the programme was being implemented
in four other local authorities namely Mangwe RDC in Matabeleland South, Redcliff
Urban Council in the Midlands, Zibagwe RDC also in the Midlands and Lupane Urban
Council in Matabeleland North.
Kundishora
said the programme was born out of the realisation that there was a missing
link between the conduct of local authorities and residents' expectations.
"We
are supporting revenue collection and public finance management through
engagement of citizens and local authorities. We initiated this programme upon
realising that during processes like budget consultations, residents do not
attend and they are reluctant to pay rates as they lack confidence in the
consultative processes.
"The
idea, therefore, is to facilitate dialogue and cultivate a spirit of trust
between the local authority and its stakeholders so that we can collectively
identify priority areas and actions for service delivery improvement," said
Kundishora.
The
engagement saw resident representatives raising their own concerns against the
local authority. It was noted that there was need to work on improving and
modifying the communication channels between the local authority and its
stakeholders.
Another
critical concern that came up was the need for modalities to encourage and
accommodate female participation in the political field as currently all the Mwenezi
RDC's 18 councillors are male.
Speaking
at the meeting, Mwenezi RDC Council chairperson, Jorum Ncube acknowledged the
existence of loopholes in council processes leading to revenue leakages.
Stakeholders
were then asked to, by the end of the year, identify a single project that will
be worked on and assessed meticulously with LACEP support.
In
the past LACEP extended support towards solid waste management to several RDCs
including Mwenezi.
The
project is currently assisting some local authorities to upgrade their information
systems. Among other improvements, the local authorities are being assisted to
transition from old model software like Pastel Partner to Pastel Evolution.