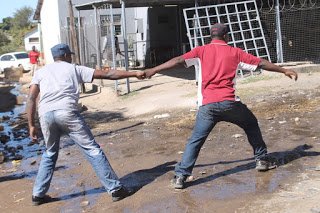 Patricia Makubaro
Zvishavane – Residents in Mandava surbub are complaining over the lack of repairs on burst water and sewer pipes, saying the neglect of such crucial infrastructure poses a danger to the health of residents. 
Residents say the gushing sewer water has provided a breeding ground for mosquitoes.
"Mosquitoes are breeding at this place and this is not healthy for all of us," said Alice Tabvirei, who is a resident of the suburb.
To make matters worse, some people are also throwing used condoms into stagnant pools of dirty water, exposing them to children who play around.
"We are not always around to monitor our children and they sometimes end up picking things they should not be picking at all," said a disgruntled mother.
Residents who stay at 'Majaradha' told this publication that council does not seem to care about the deteriorating infrastructure in the town. 
However, other residents seem to have gotten used to their dirty surroundings so much that they now enjoy their meals in the outside, despite the putrid smells.
"We are now used to the smell and it affects us no more," said Tafara Dhewa.
The sewer bursts have been like that for several months now with other residents planting vegetables close to them to make full use of the free water.
"Council is fully aware of this mess but they take no action. We see council employees jumping the pools all the time like everybody else without seeming to care," said Taurai Ncube.
No comment could be taken from council, with the town engineer said to have gone to Bulawayo on official duties.news
—
Tel :         +263 39 262 401 
He who said it can not be done must not disturb the one doing it!