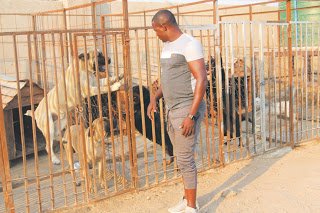 Manyuchi at his dog-breding project
Professional
boxer and former World Boxing Council (WBC) welterweight champion, Charles
Manyuchi has sweet news for the district of Chipinge and surrounding areas.
Manyuchi,
who runs a sports academy in Chivhu where he was allocated 3.5 hectares of land
by Chikomba Rural District Council (RDC), told TellZim News that he was
scouting for talent in Chipinge.
The
boxer, who is rated the 35th best boxer in the world, was in
Chipinge on a look and learn tour of Magistics Gangara Farm owned by Prosper
Chibaya at Clearwater about 17km north-east of Chipinge town.
"The Charles
Manyuchi Sports Academy in Chivhu is well-fenced and has administrative offices
that are fully operational. We are now looking at how we can now expand to
Chipinge and help children here discover their boxing abilities," said
Manyuchi.
The
academy, which was officially opened by former Minister of State for Industry
and Commerce Mike Bimha, has been praised for giving disadvantaged boxers a
chance to shine while unveiling raw talent where it exists.
"Our
place in Chivhu is open to any talented sport person of any age and it caters
for soccer, volleyball, netball and boxing disciplines. The academy focuses
much on the under-privileged and people from marginalised societies. Chipinge
is my first choice out of Chivhu since my business partner has a farm here,"
said Manyuchi.
The
academy has hosted three boxing tournaments and the latest was held in August
this year against some selected boxers from Zambia.
According
to the boxing ace, no one from the Charles Manyuchi Sports Academy has ever
lost.
"All
the boxers that we fielded have won their fights. We have 3 female boxers who
are doing well. We put value on our sports persons by giving them a good image
in form of branded kits. We also give them decent pay-outs," Manyuchi said.
Sports
persons under Charles Manyuchi Sports Academy go in camp for a month before
matches.
"Our
sport person board meets in Borrowdale whenever we are to hold matches. We do
this in order to give them enough attention so they enter competition fit and
ready for the matches," he said.
Manyuchi
was born in Bulawayo and grew up in Mutoko where he attended school at Chifamba
High in Mudzi.
During
his amateur boxing career, Manyuchi joined boxing stables between 2006 and 2010
in sugar estate Triangle and later moved to Masvingo.
He was
signed for professional boxing by Oriental Quarries Boxing Promotion of Zambia in
2012 when he went to the neighbouring for a boxing tournament.
Manyuchi
breeds dogs for sale as part of his income-generating projects at his 100
hectare farm in Chivhu that he was allocated by the government of Zimbabwe.